"Her heart is to provide her patients with a 'normal' life, even though their lives are far from normal."
These words were submitted as part of a Courageous Provider Award nomination–not by a colleague (although there were many words from colleagues as well) but by the mom of Abby. Abby was a two-month-old, premature baby cared for by a team of specialists at Jackson Memorial Hospital. And, as her mother would say, our 2020 awardee "always stood by our side, knowing that we knew Abby the best, because we were her family."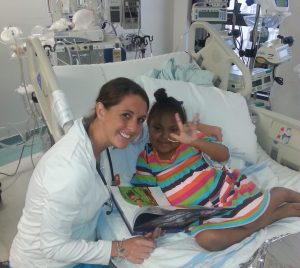 We are delighted to honor Kim Juanico, RN, BSN, CHPPN for her compassion and her passion for palliative care. Kim came to Holtz Children's as a nurse in the Pediatric Intensive Care Unit (PICU) and from the very first she demonstrated, as a colleague wrote, a mission "to create good memories for patients and their families." Abby's mom's words surely support that.
And other examples in the essays that supported Kim's nomination for the Ilene Beal Courageous Provider Award are also endlessly impressive. Some examples:
A foundation, People in Crisis, founded by Kim to fund projects that support families: a child's home bedroom makeover; meetings with athletes; a drive-in movie experience; holiday meals at the hospital; help with funeral expenses. And Prom Night, traditional prom experience for teen patients–complete with flowers, lights, makeovers, clothes, decorations and everything they would otherwise miss. By all accounts, a highlight of the Miami social season!
Support for her colleagues–particularly as they participated together in difficult conversations with families. One colleague wrote: "I felt that Kim provided me with emotional support and knew that I could count on her to recognize subtle things that would make such discussions more meaningful for parents."
The insight and integrity to relinquish her role as President of PICU in order to pursue a new role at the hospital, Pediatric Palliative Care Nurse Coordinator, without potential conflict of interest.
In fact, a colleague suggests that it was due to Kim's passion and volunteerism that the hospital's administration saw the need to grow the palliative care program and create her current position.
The Ilene Beal Courageous Provider Award will be presented in February, 2020 at Jackson Memorial Hospital. We look forward to celebrating Kim as a model of compassionate and courageous palliative care in pediatrics. Congratulations, Kim, and many thanks to your team of advocates! We join them!
The Ilene Beal Courageous Provider Award is generously funded by The Ilene Beal Charitable Foundation. Learn more about the Award, which annually honors a pediatric provider who provides exceptional family-centered care in circumstances of serious childhood illness.