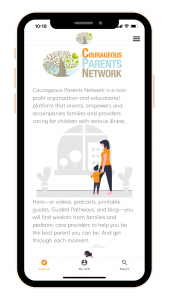 EASY, CONVENIENT ACCESS TO CPN CONTENT
On the app you will find easy access to all your favorite CPN content: videos, guides, pathways, blog posts—and a growing library of podcasts, now in a truly portable, 24/7 format. Of course, this means that everything CPN is now available to you at any time, as long as you have access to your phone. (We support both iOS and Android.)
BUNDLE & SHARE
We are so excited about this new feature, only available on the app! You can use the Bundle & Share tool to collect any CPN content and directly share it with others. This is an ideal resource to help you prompt a discussion with your care team, allow friends and family to understand what you're going through, and support others in your disease community.
You can access Bundle & Share from your MY CPN page and EXPLORE, easily accessible from everywhere on the app.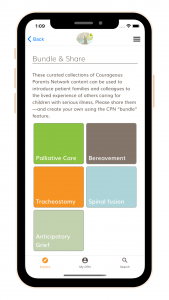 VIEW AND REGISTER FOR CPN EVENTS
Are you already a fan of the CPN In the Room series—or would you like to be? Register and view live streamed events, or look through the archive for programs you may have missed (and maybe even share programs of interest with others!).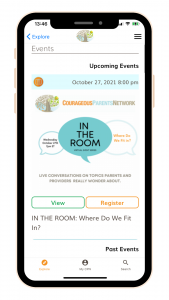 KEEP CURRENT
As you use the new app we want to remind you of your CPN profile page (MY CPN on the app). Please keep your profile up to date, so that you receive regular and meaningful communications from CPN.