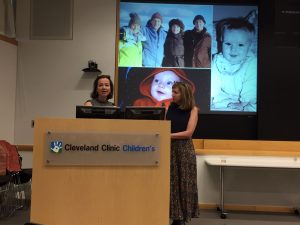 Compelling and compassionate, the Courageous Parents Network core staff speak to the lived experience of patient families with a unique combination of authority and sensitivity. All bereaved parents and/or pediatric palliative care professionals, they are conversant in the language of serious, rare and fatal conditions—and how a devastating diagnosis, the illness journey, and bereavement affect the family and the caregiver-provider relationship.
The staff is prepared to present virtually and in person. To engage a CPN speaker, contact us.
SAMPLE TOPICS
For Providers (Rounds, Conferences and Meetings)
Family Resiliency in the Face of Illness and Loss
Fostering Good Parent Beliefs
The Value of Pediatric Palliative Care for Families of Seriously Ill Children
Communicating with Families of Seriously Ill Children
The Lived Family Experience in the Face of a Serious Pediatric Illness
Meaning Making and Transformation Following Child Loss
Supporting Shared Decision-Making with Families of Seriously Ill Children
Accompanying the Family of Seriously Ill Children
Living with Anticipatory Grief
Understanding and Considering Clinical Trials
For Industry (Conferences and Meetings)
Understanding the Lived Family Experience
Coping with the Diagnosis; Anticipatory Grief
Supporting the Social-Emotional Health and Wellbeing of Rare Families
Evaluating the Clinical Trial Option: Family Education and Shared Decision-Making
Guiding the Siblings
Bereavement 
The Intersection of Hope and Family Genetics
For Patient Families and Disease Groups (CPN and Sponsored Programs and Events)
Panels, presentations and virtual events (choice of platform) on topics relating to anticipatory grief, advance care planning, pediatric palliative care, and bereavement
SPEAKERS
Blyth Taylor Lord, Founder and Executive Director
Blyth founded Courageous Parents Network in 2014 and has since worked full-time with leaders in pediatric palliative care—doctors, nurses and nurse practitioners, social workers, patient advocacy groups, palliative and hospice care providers—as well as with bereaved families, and families whose children are currently living with life-limiting illness. She serves on the board of National Tay-Sachs and Allied Diseases Association, where she helps oversee NTSAD's family support services, and as co-chair of the Parent Working Group for the American Academy of Pediatrics' Section on Hospice and Palliative Medicine.
Chrissy Salley, Ph.D., Director of Clinician Outreach and Engagement
Chrissy Salley, Ph.D., is a pediatric psychologist who works with children and families affected by a range of pediatric medical conditions and has spent much of her career concentrated in pediatric oncology.  Chrissy has worked in several pediatric hospital settings and collaborates with colleagues on clinical research focusing on psychosocial issues facing children and parents who frequently engage with pediatric healthcare systems.  She has a particular interest in supporting parents and caregivers.  Chrissy is a co-author of the Psychosocial Standard for Children with Cancer and their Families for parents' needs and Founding Chair of the Caregiver Wellbeing Special Interest Group of Division 54 of the American Psychological Association.  Chrissy is also Clinical Assistant Professor at Hassenfeld Children's Hospital at NYU Langone.
Jennifer Siedman, Director of Community Engagement
The co-founder with her husband of Ben's Dream-Sanfilippo Research Foundation, founded to honor their son Benjamin, Jennifer has worked with researchers, patient advocacy groups and foundations worldwide to fund and advance gene therapy now in clinical trials in the U.S., Spain and Australia. Her commitment to advocating for children with special needs has also driven her career as a development professional and consultant. Jennifer has been recognized with the Global Genes RARE Champion of Hope and the Boston Celtics Heroes Among Us awards for her contributions. She became part of the Courageous Parents Network family when she and her husband shared their story in a CPN video, and she served on the CPN Parent Advisory board before joining the staff.