Everyone can use a little Pop of Courage in their lives!
Imagine waking up in the morning, looking out at your lawn and seeing it decorated with a colorful display of balloons, plastic flamingoes, paper flowers, or, in CPN's case, signs in the shape of giant lollipops that we are calling Pops of Courage. During this time of social distancing, lawn bombing has caught on in communities as a way to spread unexpected joy and connect with others. For us, this is also a way to raise critical funds, increase awareness of CPN and celebrate the incredible courage of families.
We invite you to join us in helping CPN "Pop Up" in all the places that we need to be!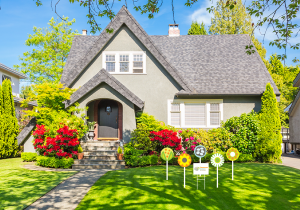 — Host the "Pops" in your own yard. Spread awareness and add some fun to your neighborhood.
— Send the "Pops" to a friend. At this time, due to logistics, this option is limited to recipients in the towns of Belmont, Brookline, Cambridge, Jamaica Plain, Newton, Watertown, Wellesley, West Roxbury, and Weston only.
— Become a Pops of Courage Hero. When you purchase this bundle for yourself or the recipient of your choice, CPN will also "pop" a local family caring for a child with serious illness.
CPN staff will make the magic happen. Our dedicated volunteers will set up the display of lollipops on the recipient's lawn, deliver a personalized note and even remove the display 7 days later so the lollipops can "pop" up on someone else's lawn.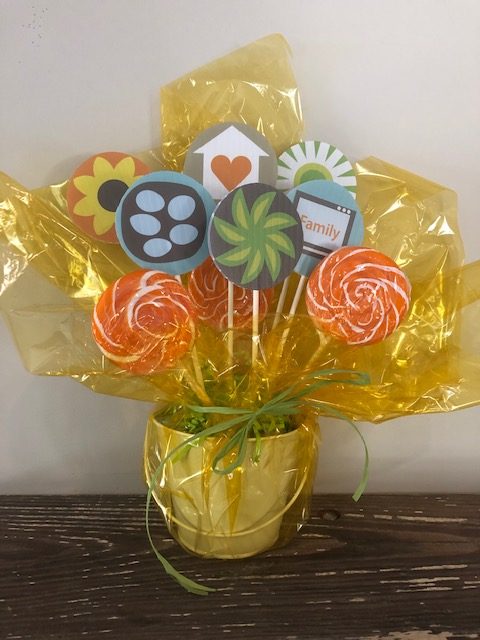 Live in an apartment or want something tabletop instead?  You can still send yourself or a friend a Pop of Courage with our Courage Bouquet. This whimsical bucket of fun includes 6 CPN lollipops including one that converts to a magnet and three candy lollipops.
Need more information. FAQ's on our Pops of Courage Flyer or contact connect@courageousparentsnetwork.org
Support the courage of so many families caring for a child with serious illness.
Purchase your Pops of Courage by clicking the image below.