How Brokenness Becomes Strength by Amanda Heller
I honestly don't remember the first time I heard the words "intestinal failure". As a matter of fact, most of the year that followed is a blur punctuated by horrifying and traumatic experiences. It's not that I was new to having a child with a serious illness. Andalyn was born with Tetralogy of Fallot, a congenital heart defect, and her liver protruding out from her abdomen where her belly button should be. For the first 4 years of her life, she struggled with nausea, vomiting, severe abdominal pain and the inability to eat or drink more than tiny amounts. No one had been able to figure out her exact diagnosis or how to fix it, much less manage it. The life flight that brought us from Farmington, New Mexico to Children's Hospital Colorado to monitor a GI bleed, "just to be safe," was the beginning of the worst time in our life.  
I didn't feel capable of taking care of any of the things medical or personal that appeared that year. I was bouncing back and forth between the Ronald McDonald House and the hospital so Andalyn could get care that was unavailable in our home state. Recently divorced, I was alone trying to understand several terrifying new diagnoses, while at the same time learning to navigate an unfamiliar city and build relationships with a brand-new team of medical providers. I was grieving the loss of my marriage, my friends, my church support, and missing our home and Sunday dinners with my dad. I was doing my best to figure out how to provide hospital level care knowing that I could make mistakes that could kill her. Andalyn required continuous IV infusions, an ostomy bag, special diets with complex feeding protocols, gastric venting via a G-tube, and intestinal feedings through a J-tube. There are no words to accurately describe the terror, fatigue, or intensity of feeling overwhelmed in those early days. I could barely figure out how to leave our room with so much medical equipment and supplies, much less function in any meaningful way. I felt trapped. I felt hopeless and I was terrible at all of it.
I didn't yet know how to navigate the world I found myself lost within. I couldn't sleep more than an hour or two at once because of the care she required and my own fears. I didn't yet understand the importance of self care. I didn't know how to effectively get what we needed, or how vital it was to be transparent with our medical team about how I was doing. I spent most of my time either angry or depressed trying to hide my tears, or both. I unintentionally insisted on learning things the hard way by allowing fear of being seen as a lousy caregiver stop me from asking for help or showing my vulnerabilities. 
I don't know if eventually I got smarter or just so worn down that I eventually broke, but the day I found enough courage to tell her GI doctor that I was so exhausted that I couldn't remember the steps of Andalyn's TPN IV infusion was the day that it became possible to find success as her caregiver. In my brokenness, I unexpectedly found strength.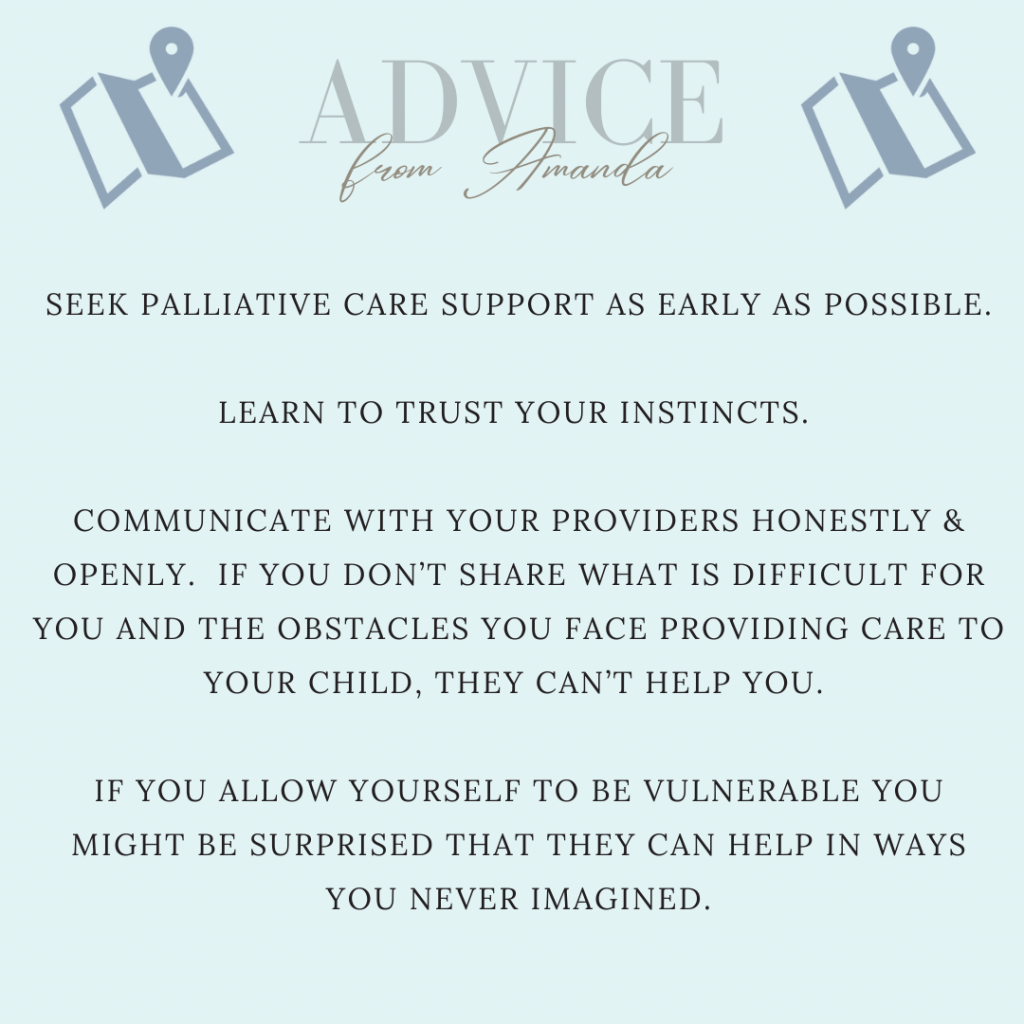 I reluctantly took my place within the medical team and slowly learned to be an active participant in symptom management and treatment planning for my daughter. Little by little, I became a better advocate for my child and myself. I learned tips and tricks to make living with the extensive medical needs feel almost normal. I began to see her medical team as our biggest ally and leaned on them for support. The only people I knew that could relate to my world were found within the halls and clinics of the children's hospital where we spent so much of our time.
I learned to partner with her physicians, dieticians, nurses, pharmacists, therapists, and countless other providers. I became their eyes and ears. I grew to be an expert in how my child's illness presented uniquely in her. I studied patterns, test results, and kept records and logs that would impress a field agent at the FBI. The clinicians had the education, training, and benefit of their collective experience, but only I could give them the information they needed to understand what my child's illness looked like outside of those clinic appointments. I began to trust myself and my instincts more. As the months became years, I grew to be quite skilled at fighting for my child in a gentle, effective, and persistent way. I can now recognize and communicate problems before they fully manifest, allowing her team to implement interventions quickly.
Learning how to become an active member of Andalyn's medical team took opening myself up to people I perceived to have a great deal of power over our life. It took building trust and tearing down walls. Sometimes it meant walking away and coming back. It took humility and grace and tears. It took allowing the brokenness to be part of the process. When I was broken, I could absorb their empathy, compassion, and comfort. When I allowed myself to be honest about the pain, they offered ideas, strategies, and solutions to try to improve things that could be better. For the things that couldn't be changed, they offered kindness, validation, encouragement, and even an occasional hug. 
Her medical team has become our second family supporting us through the darkest moments and celebrating even the smallest progress. Caring for a child with a serious illness is without a doubt the most difficult thing I have endured but it became possible through learning to trust her team. Still horrendous, but possible.
Andalyn just turned 12 and I am now skilled at navigating the world of raising a chronically ill child. Things that were once so intimidating that even thinking about them made it impossible to breathe have become as normal as brushing my teeth. I have learned how to modify backpacks for feeding pumps and build custom IV poles to carry loads much too heavy for tiny shoulders. I can send messages to her medical team in the middle of an IEP meeting while doing a bolus feed and clearing an alarm on her IV pump. I have learned to fold medical care into every aspect of our life. Most importantly, I have learned that everything new might feel impossible at first. Just like a hot bath, if I allow myself to ease beneath the surface, the water soon begins to feel tolerable. And sometimes if we are really, really lucky, tolerable may eventually even become comfortable.   
---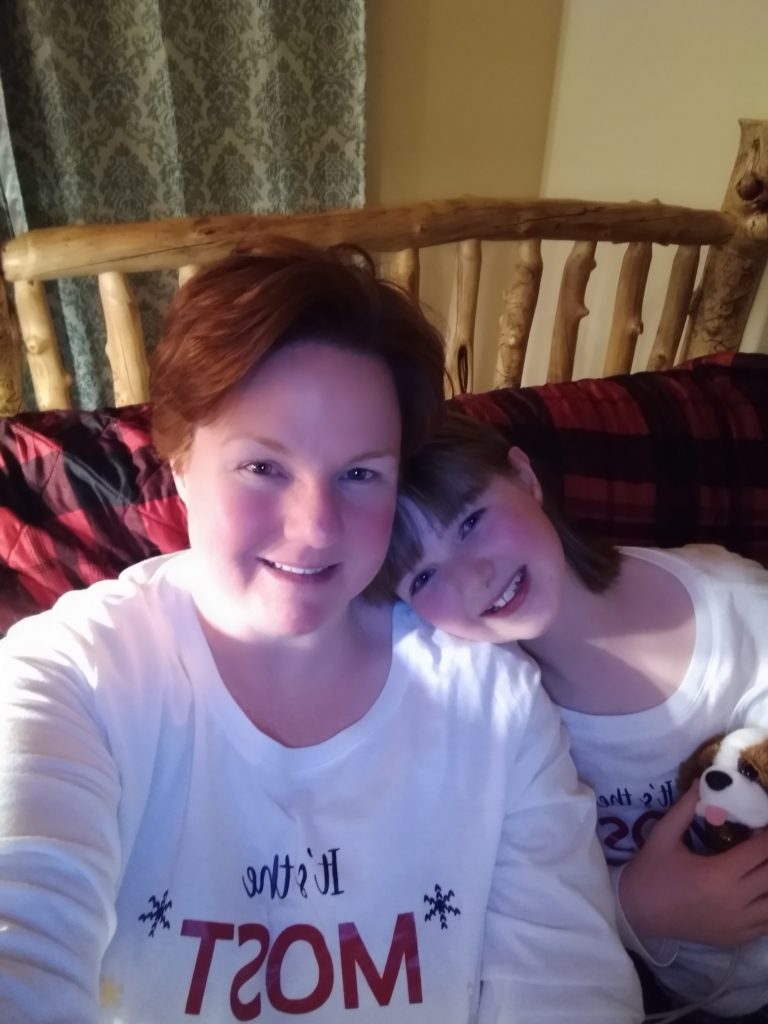 Andalyn and I live in Aurora Colorado. She is my only child. She loves art, reading, music, and anything Harry Potter. I enjoy sleep, tv, and spending time with my amazing friends, often in that order.  My goal is to help Andalyn have as much fun, laughter and joy as I can give her. I am famous for throwing huge parties to celebrate positive things and even the smallest progress she makes. We are active members in our church and find comfort and strength in the doctrines of our faith. We love to snuggle and watch movies or TV together to relax after long days and busy weeks. Andalyn is incredibly intelligent, funny, and has the sass of at least 3 teenagers all rolled into her feisty tenacious spirit. She is a constant source of entertainment and a test of my parenting abilities. Recently I began the process to find myself again because my entire identity has been all about being Andalyn's caregiver since she was born.