CPN recently connected with the Heitmann family. Their daughter Mia Grace has an extraordinarily rare chromosome abnormality. Living into the uncertain future of such a rare diagnosis, Mia's mom, Brittany generously shared their story with CPN in an interview format so that others may feel less alone.
CPN: Tell us about Mia's birth and early days.
Brittany: We were told during my pregnancy with Mia that she had a small chin. As a result, she needed to be born via cesarean section. When they pulled Mia out of my belly, she was blue and not breathing. They intubated her and rushed her to Nemours AI Dupont Children's Hospital.  I had to stay at our local hospital to recover so I never even held her after giving birth.
Mia spent 4 long months in Nemours – her first Halloween. Thanksgiving, Christmas, and New Year's. Eve.  Her early months were traumatic. She had multiple infections, developed necrotizing colitis, and it was discovered that she had a seizure disorder. She coded multiple times.  Genetics finally got involved and it was discovered that Mia has an extra chromosome made up of part of 16P and part of 22Q.
She finally came home on Valentine's Day – the day of love!
CPN: How did Mia's birth and diagnosis answer some of your unanswered questions on your journey to become parents?
Brittany: After Mia's chromosome abnormality was discovered, I was tested. I have a translocation of chromosomes 16 and 22.  My translocation caused Mia's duplication.  This also causes a pregnancy loss. Before Mia was born, I had 5 miscarriages including one at 21 weeks – a baby girl born without kidneys which is another complication of the translocation. My husband, son and I were so looking forward to the little girl I miscarried. I got pregnant again a month after the miscarriage and when we found out Mia was a girl, we were all just over the moon excited. Now that we know we don't really get to keep Mia it is just so overwhelming. But in many ways her birth solved the mystery behind so many heartbreaking losses.
CPN: How is Mia now?
Brittany: Mia is a true miracle and trooper. She is currently 19 months old and has had 17 surgeries. She has a trach with a vent and a gtube. The small chin is a condition called Pierre Robin Sequence which includes a small chin, cleft palate and tongue that blocks her airway resulting in multiple surgeries and likely future surgeries. Her cleft palate, however, will never be fixed because her jaw is too tight. That is also why she needs to be fed via a gtube.
Besides all her surgeries, the biggest health factor we are trying to get under control is her seizures. At one point she was on five very heavy epileptic medications. She has infant spasms known as West Syndrome. We recently did a course of prednisone therapy that we are hopeful will help her.
She currently attends medical daycare. She receives physical, occupational and speech therapies there. She also has home nursing and is followed by a palliative care team from Nemours.
We have also been told that Mia may have a type of epilepsy called Lennox Gastault, which comes with the high likelihood of dying between the ages of 2-6.  Though they did say that if she lives beyond age 6, she could live into her 20's.  That's the hard part. The doctors are not positive about anything.  They are not even 100% positive that she has Lennox Gastault. So, we have come to a place where we are just living strictly in the moment. We are trying to just enjoy Mia today because honestly that is all we know we will have her for.
CPN: You have a healthy 7-year-old son. How is he handling this?
Brittany: We have Gavin working with a Child Life Specialist at Nemours because this is hard on him too. He does not know all the details about Mia's health, but he knows things are not good and he knows Mia has "an extra cell" (chromosome). He is all about sports. He channels all his energy and worries into his sports. It's a positive outlet for him. He is also hilariously funny which helps too.
CPN: Where do you find support?
Brittany: We are having difficulty finding a community.  Yes, we can rely on our close family and friends for support, but we wish we had a connection with other families with children like Mia.  Our genetics counselors do not know anyone like Mia. They know children with duplicate 16 chromosomal disorders or duplicate 22 chromosomal disorders but not both as in Mia's case. It is so lonely, heartbreaking and just plain sad to not have other families to connect with because Mia's situation is so rare.
CPN: What's been the hardest part?
Brittany: Simply put, there is no road map for what to expect for our Mia. This creates a lot of uncertainty. No one, not even the doctors, really knows the path Mia is going to take; and this fact is so incredibly hard on us. Honestly, it would be so much easier if she had down syndrome or another more common chromosomal abnormality. We are in such limbo we cannot plan out much into our future.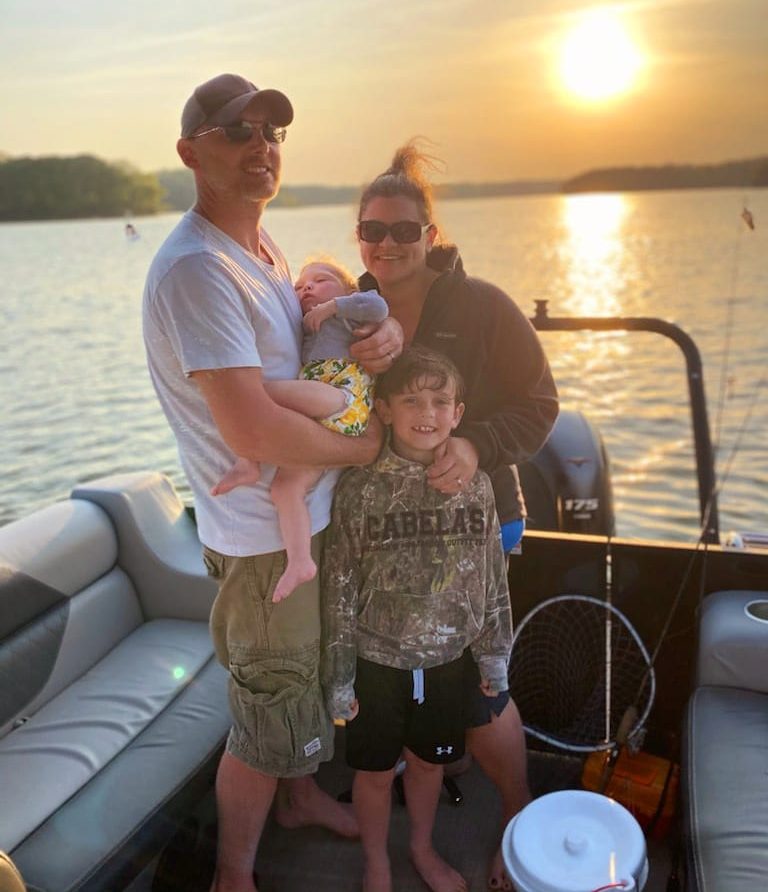 After we met with our doctors and they told us about the 2-6 year prognosis, we took our family on a vacation.  We had our Mia on a pontoon boat, the wind blew in her little blonde curly hair, and we just soaked up the time with her and our son. We know that our time is probably limited, and we need to enjoy it now. This breaks my heart every single day. It breaks for myself and for my husband and son.  Our plan for now is to enjoy the moment with her; by taking her to new places, giving her all the kisses and snuggles and watching her develop in whatever way she possible can.
CPN: How has Mia inspired you?
Brittany: Our Mia has motivated me in so many ways. Mia is nonverbal but has very much taught me about life. I am continuing my education in honor of our Mia. I currently have my Bachelor's in psychology and Master's in human services. I work as a school counselor and am almost through my second Master's in clinical mental health counseling. I will then be a licensed mental health counselor. I want to help families going through trauma. I have always worked with children and hope to continue to do so  in my future career along with family and couples counseling. My goal is to obtain my PhD in counseling. Mia and her amazing big brother give me the strength to do this.
CPN: Is there anything else you'd like other families or providers to know about what others can do to support a family like yours?
Brittany:  I want providers to know that when working children with rare diseases they need to focus on the family and the child as a whole, not just the individual field they specialize in. There have been times when Mia's specialists only concerned themselves with their area of expertise. Mia needs whole body care because she has so many issues ranging from epilepsy, kidney reflux, cleft palate to severe neurological impairment and they all overlap. Also, the whole family needs a focus because her condition affects every one of us. That said, Mia has so many fantastic people on her team, including her plastic surgeon, Dr. Caterson and his nurse practitioner, Kim Giodono;, her pulmonologist, Dr. Strang; and ALL of our private duty nurses. We call it team Mia and they ROCK!