Hello to the Parents in Our Network!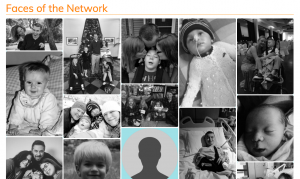 Courageous Parents Network is a destination created by parents, for parents, to support, guide and strengthen families as they care for a seriously ill child. This Network is made possible by a combination of paid staff, volunteer parent and provider contributors and advisors, generous donors, and, perhaps most importantly, the wider community of parents and providers who read, watch, listen and send us feedback. YOU!
One of our goals in 2019 is to really capture the breadth of the Network's community of families, to put a face on who is here with and alongside us.
So we are launching a new feature that features You! A photo collage consisting of our members. The photo can be your child that is affected or your entire family.
Adding the photo is easy. 
1. Sign in to Courageous Parents Network or register if you haven't already.
2. Visit your profile to edit your information.
3. Scroll down and select to opt-in to the new photo collage feature, enter your child's name, upload the photo and write a short blurb about your family.
We can't wait to SEE you!
With appreciation for the work you do, the courage you show, the love you give,
Courageous Parents Network