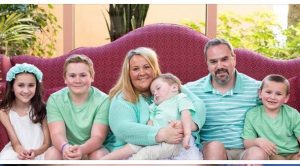 We just miss you, Coop.  There isn't really another explanation for the heaviness that continues in our hearts. Two years later.  Two years seems like such a long time ago and at the same time, I can walk through every exact detail of January 19, 2017. Cooper was pure love.  It radiated from him.
I talked myself into my own rationale about Coop's prognosis, thinking we had a good ten years with him. The doctors said he would live to," early childhood" So, I negotiated 10 years old in my mind and with God.
10 years old was early childhood to me.
But, I wish I knew we would only be given until 3 years old. I wish I had understood that the doctors only put that label on him because they also didn't know what his longevity of life would be.  I wish I knew how fast it would go.
But, he is free of GM-1 now. I could never begrudge him of that freedom.
After pounding heaven with prayers for a cure and that this awful diagnosis was a big lab mistake, I stopped.  I never prayed for Cooper to live.  I knew he wasn't going to.  This demon of this life limiting condition was much bigger than any of us.  I only prayed that COOPER would stay COOPER for as long as possible and when he couldn't do that, I wanted him to be at peace.  That was my biggest prayer…..and it was answered to the fullest.
As much as I wish I didn't have to be a bereaved parent, I know with utmost certainty and conviction that I would never trade the title of 'Coop's Mom', for anything.  I was given a gift and a privilege.  I hate my situation on any given day but at the same time, I feel like the luckiest woman in the world to have had the honor of caring for him.  Michael feels the same.  He is only person that can be 'Coop's Dad.'  We are so lucky!
We have morphed and changed over two years.  It hasn't always been easy.  Our relationships are always changing — I feel for the better — but it is constant work.  We are all just trying to find our way. Everyone naturally grieves differently so add in five people that live under the same roof, that suffered an immeasurable loss, and the constant thought rings… Is everyone OK?
But, what our family has learned is that:
 It's fine to feel a little heavy on any given day.
 It's fine to miss him.
It's fine to stay home. I actually enjoy this most out of the five of us.  Some of the most creative Coop's Troop Foundation thoughts, help to others and ideas came in solitary.
It's fine to be a complete mess at work, at school and in life.  But, only for a minute.  Pick it up.  Coop would never want us to be miserable for a long time and dwell in darkness. Always let joy be the compass.
It's fine to be normal sometimes.
It's fine to not owe anyone an explanation; grief is hard.  Grief is always changing.  We do what is best for us.
Finally, you can never escape your own feelings or what is in your heart, so pause and take a listen to what it has to say. Coop is usually trying to intercede and point us in the right direction.
I always recall Deacon Joe and the words he spoke at Cooper's funeral: We may not have received the miracle that we all prayed for (a cure), but God did answer the prayers.  Cooper brought lots of hope and WAS the miracle to so many.
"The fact that our hearts yearn for something Earth can't supply is proof that heaven must be our home."- C.S.Lewis
We miss you extra today, Coop.