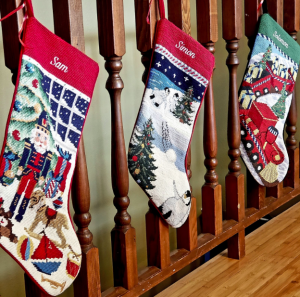 When I saw the Courageous Parent's Network Facebook post the other day with the article talking about holiday traditions and stockings in particular, I was reminded of this piece I wrote a year ago. I never shared it with anyone — until now. Sam had only been gone a few short months. Revisiting this piece again reminded me that I am in fact on a journey.
This year, I opened the Christmas bin and took out my other two boys stockings and I felt like something was missing. So I went looking for Sam's. I hung his up this year. No denial, but rather an acknowledgment that I just plain miss him. Emotions change. The waves of grief change over time and I felt it important to just simply ride the wave, instead of wonder why I felt that way…I just simply did.
~ December 21st, 2018 ~ 
Every year I buy each of my boys an ornament for the Christmas tree. My hope was one day, when they are grown, I could give them all the ornaments I've collected over the years to have as their own. I knew Sam would never leave home. And it comforted me to know all his ornaments would be ours forever. When your child dies a few months before Christmas, certain traditions become unclear. Do I buy him an ornament this year? He was alive 9 out of the 12 months. Does that mean based on the ratio of months alive vs. months deceased, by default he gets an ornament? Who knows? No one hands you an instruction manual for what to do or what not to do when your child dies. Just like you don't get one when they are born. Last week an unexpected box showed up, addressed to Josh and I from the funeral home. I opened it and gasped. It was the most beautiful glass ornament in the shape of an angel. Inscribed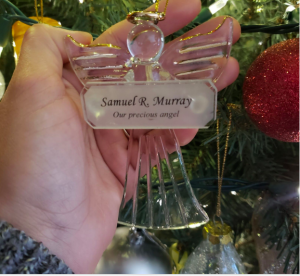 was "Samuel R. Murray, Our Precious Angel."
I always called him my angel. How did they know? Receiving this ornament, as small as it was, was a good reminder to me that when some decisions are just too hard to make, they usually take care of themselves. I will not purchase any more ornaments for Sam. This little angel, perfectly closed that chapter for us and we will end on that note. 
While I was unearthing all the Christmas decorations from the big bin in the basement, out came the stockings. One for each of my boys. My 4 year old was standing next to me. I turned to him and held up Sam's stocking and said, "What am I supposed to do with this?" He said, "I guess you don't put it up mom." I went with his lead. Not because I don't want to acknowledge Sam as part of our family, but sometimes the reminders of his loss just hurt too much. It's just too fresh. So, I have not hung the stockings…any of them to be exact. I decided Christmas morning I will hand the filled stockings to each of my two sons instead. It just didn't feel right to have them on display this whole time. Seeing Sam's missing stocking would be painful as well as seeing it hung would be just as painful. Either way it was just too much. 
There are no presents under the tree for Sam this year either. Being perfectly honest, it was somewhat of a relief. It was becoming difficult to know what to buy him. Sam's life was so simple. He really only had basic needs. We all bought him things he "needed" like clothes, toothbrushes, a new blanket. Sometimes I wonder if I did it so my other boys felt better that we didn't leave Sam out. He had no use for excessive material things. What Sam really loved was us being with him. His world lit up when we were close to him. Telling him about the comings and goings of the house, telling him how much we loved him and most of all telling him we will always be there for him. Sam continues to teach us lessons, even after he's gone. Teaching us that giving the gift of time is really all our loved ones want from us. 
There really is no right or wrong in these situations. We're navigating this new road as it feels right for us. WE make up the traditions, so WE can change them. I look forward to finding new ways & traditions to remind us of Sam's wonderful life. He made us all so rich, with no money involved. Things will never be the same, but we will also not forget.