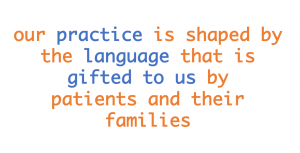 by Rachel Rusch, LCSW, MSW, MA
"You know, there's a tension here. There's a tension here that is very, very real. You can feel it – can't you?"
The tension was brought up by the father of one of our patients during a family meeting. This was one of those family meetings where the young patient, multiple family members, and several interprofessional clinicians all huddled together in a too-tiny room. We were discussing discharge, conferring between ourselves what the care plan moving forward may be.
The father's observation quieted the room. I wondered, I worried, I wished to know more. One certainly could feel the very palpable tension that charged the room like a live wire bridging everyone present. One could also feel our collective curiosity in how we may – or may not – be able to continue.
"It's a good thing, this tension," the Father continued. "It is a productive tension. It means we all care very much. It means we respect each other enough to disagree. It means we are all a part of this same team."
I would hear members of the health care team who were present that day call to mind this notion – originated by the father of our shared patient – of "productive tension" in the days and weeks to come. It was a reminder of just how much of our ongoing clinical practice is, and should be, shaped by the language that is gifted to us by patients and their families.
We talk often in pediatric palliative care about attunement and thoughtfulness to language. More and more, the language I find myself using has been shared with me by patients, parents, and caregivers. It is language that is then picked up and reshaped by others, families and clinicians alike, and these moments are thereafter present in our daily clinical practices.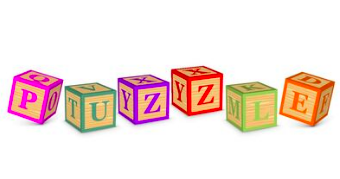 There was the father who shared with us: "I've given you all of the pieces of the puzzle that I see. Now you need to put the puzzle together."
There was the parent who reflected that her baby's unexpected diagnoses felt to her "like a giant puzzle that's missing a piece. You step back, and it looks beautiful and perfect. When you get up close, you see there's that piece missing. And you can never find it – it's always that piece hidden somewhere just out of reach."
There was the patient who described his sadness and excitement "dancing together" as he transitioned into adult care. "It's like when you're in school and you're mixing blue and yellow together. They look like they're on separate sides and you don't know how they will mix together to become something new – but you hope and trust that they will."
There have been times when someone's individual language has changed my clinical practice forever.
"Isabella's" mother would share, through the support of our Spanish interpreter: "the team doesn't think we understand. They hear our hope, and they think that we do not also worry. We worry every moment of every day. Sometimes the doctors are rushed and cannot use an interpreter to hear us. They do not hear that when times are hard, I hold her close and I get very quiet. I quiet my breath – and I listen. And then I breathe in rhythm with hers. And our breath becomes one, our heartbeat becomes one. And I become her arms, her legs, her eyes, her ears. I become her voice. I become her advocate. And I hope as much as I worry. I have to."
"Nathan's" mother would share during mornings rounds: "I understand how worried the doctors are. I feel like a nail that you have hammered into a plank of wood over and over and over again. I'm now flush with the table, and you keep hammering in as if I have anywhere else to go. We are simply asking for time to process, to think, and to learn. This is all so new – please just allow us time."
"Jamaal's" family would share in our bereavement group: "sometimes when we are moving through times of grief, our hearts feel like they are shattered – and we worry that when the pieces come back together that they will be smaller, more shriveled and hard. As time continues, we find the opposite is actually true. We find ways to heal in that space, to fill in that space, to find new ground – and our hearts heal bigger and we are more alive as a family than we were before."
As in that moment when a "productive tension" was defined, these and innumerable other observations made and images offered by patients and families are the moments when I have learned more than I ever could in a classroom. These statements made me reconsider what it means to understand, to reflect on the role of worry, and to respect the necessity of hope. They taught me the importance of ensuring that there is space, time and safety for such expressions to be shared – and that if those circumstances weren't present, it is part of our role as clinicians to ensure that such protected space could be created. It is in hearing these reflections and sharing them within our work that we create better systems of care for our patients, their families, and our selves.
I find myself carrying these images in my heart with every new patient and family I have the honor to meet. The missing puzzle piece, the nail embedded into a piece of wood, the mixing of blue and yellow – these words have shifted the ways in which my eyes see and my ears listen. In this way, the families we care for and the language they share are always present in the ongoing tapestry of this work, shaping the next question I may ask and the nature of my listening. I am forever grateful for the trust and the gifts patients and families have bestowed upon us. I hope to hold this gratitude by continually being guided by their lessons and allowing their words to shape the forefront of our care.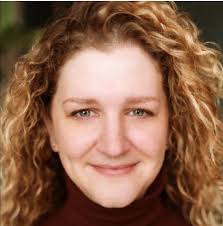 Rachel is a Clinical Social Worker with the Division of Comfort and Palliative Care at Children's Hospital Los Angeles. She is a graduate of Harvard Medical School's Interdisciplinary Palliative Care Fellowship with a concentration in pediatrics and holds both a Master of Social Work degree from New York University as well as a Master of Arts in Child Development from Sarah Lawrence College. Rachel is a graduate of NYU's Zelda Foster Palliative and End-of-Life Care MSW Fellowship. Currently, Rachel is pursuing research and clinical interventions surrounding the power of story alongside patient, family, and provider perseverance as part of the Sojourns Scholar Leadership Program through the Cambia Health Foundation.