9/17/2019
·
Enable high contrast reading
It's What They Didn't Do that Mattered - Blogger in Residence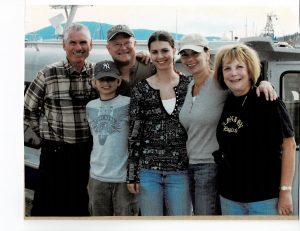 Gifts for no reason, indulgent sweet treats, endless patience for games, relaxed bedtime rules, and "everything you do is perfect" unconditional love. Who doesn't love that?
My parents reveled in that type of grandparenting for years, and even created a name for this fun with Nana and Popa – "spoiling visits".
But with the onset of my teenaged son's illness in 2012, my parents' grandparenting style became much more complicated. They were still incredibly generous and involved, but I appreciate them even more for what they did NOT do.
Share Love not Worries
My parents made a concerted effort to stay where we were in any given moment, allowing my husband and me to set the tone and the pace. I come by my own problem-solving skills naturally, so I know my parents had many questions – about short term logistics, long term prognosis, potential treatment options, and profound concern about the impact on our family. They learned and considered along with us, but didn't push to go down the "what if" road ahead of us.
Because my son's illness took an unusual, often confounding path, it would have been easy for worried grandparents to slide into "fix it" mode and offer unsolicited advice. But my parents didn't succumb to this temptation. They listened attentively but quietly. In fact, they regularly interceded when others shared their own well-meaning suggestions from Dr. Google. My dad would respond with polite thanks, and reiterate that he entirely trusted our judgement to do everything to get our son the best possible care.
And, I marvel at their restraint! Their anguish was multiplied as they yearned to ease the pain for their daughter and son-in-law, and their granddaughter and especially their grandson. I know they wanted nothing more than to help, and they understood that sometimes help meant giving us some breathing room. My parents let us lead, and they were unwavering in their confidence and respect for our choices.
Sometimes Don't Ask
It's one thing to know that your loved one is suffering, it's another to figure out how to deal with it. We worked a tenuous balance to be vigilant without letting our son's medical condition swamp his everyday life. We carefully noted symptoms like pain or nausea, but tried to have a light, sometimes even lighthearted touch. We wanted Robby to be able to take his symptoms in stride, so the people who loved him needed to learn this lesson too.
We advised people not to ask too much about "how you're feeling" or show excessive concern for setbacks. It can feel counter-intuitive when your internal alarms are ringing, but it did help everyone remain calm and build resilience for adversity. During one Passover dinner, Robby started feeling unwell and slid off his chair to sit on the dining room floor. I flashed him a wordless "are you ok?" look, and he nodded and waved his hand meaning "just go on". My family members paused – noticed that I wasn't reacting, took a breath, and kept going. Robby felt better in not too long and returned to party without feeling like a spectacle.
And that approach worked for me too. As my son's primary caregiver, my life was incredibly stressful and it took focus to stay in that world everyday. While I appreciated the kind intentions, sometimes I just didn't want sympathy. It's not that I didn't want someone to understand me, but I was afraid that too much "poor baby" energy would get in the way of the strength I needed to keep going. So my parents focused on listening and somehow managed to buoy me through my fear and anxiety without weighing me down with their distress.
Stay Close from a Distance
I think one of the toughest challenges for my parents was to suppress their instinct to run to our side in an emergency. Robby was hospitalized numerous times, and each time they offered to come and help if we wanted. Each time, we declined. Robby was adamant that he didn't want anyone else around (he barely wanted his parents with him!), and I was secure in my day-to-day advocate role.
My parents understood Robby didn't want to talk much when he was feeling ill, so they learned to text him a quick message or joke. I'm sure they would have liked nothing better than to hear his voice, but they wanted to respect his boundaries. He sometimes rolled his eyes at what he read, but it also always made him smile.
They called me too, but not too often. They waited patiently for updates, and acted as the information hub for the rest of the family so we didn't have to manage the dissemination of news. And they were always ready to listen if we needed to vent, to get a boost of encouragement, or to work through a new scenario. I could hear a certain quality enter my father's voice when we talked about the most difficult subjects – and I felt safe in those moments, loved and respected.
Near the end of one particularly harrowing hospital stay, my parents came to us on their way driving to Florida for the winter. Robby had just been released from the ICU to a regular room and was heading out of immediate danger. Everyone felt a release when they walked in the door. My parents could finally give everyone the long-awaited hugs in real life, and we exhaled with relief now that back-up had arrived. They would need to wait most of a day to see their grandson, so my mother did what any good Jewish grandmother would do – she cooked. Brownies to tempt Robby's appetite in the hospital, meals to go in the freezer for easy family dinners, and of course, chicken soup.
We laughed at my mom's pent-up Nana energy, but we were grateful for the concrete help and the boundless love it expressed. And Robby couldn't have been happier to know that his grandmother had provided enough chicken parmesan (his favorite) for countless meals.
Nature and Nurture
There is no perfect protocol for the grandparenting challenges my parents faced during my son's illness. Fortunately for us, my parents — a retired educator and psychologist — each have a thoughtful style grounded in their innate temperament and professional training. Both are skilled problem-solvers highly attuned to nuanced implications of any situation. And both are deeply committed to their family, with a healthy respect for boundaries.
But by no means does it take an advanced degree to navigate these highly charged circumstances. Mostly, it takes an open heart to listen to what the family most needs, and the adaptability to try new approaches in a new reality. With loving intentions and sensitive attention, anyone can learn that.
I will always be profoundly grateful for the role my parents played in my family's life during this impossible time. Their stalwart support communicated respect in our capacity, they were a haven of calm when things felt out of control, and their love was a bottomless source of comfort no matter where life took us. As in many aspects of my life, they set the example I strive to follow – not just what they did, but how they did (or did not) do it.
CPN has a guide with suggestions for interacting with your adult children as they parent a child with a life-limiting condition. These guidelines also apply to other extended family, such as aunts and uncles and cousins.
Caryn Anthony is a nonprofit consultant and executive coach from Silver Spring, MD, and is also a volunteer member of the Patient and Family Advisory Council for Children's National Medical System.  She is the author of "Any Way the Wind Blows,"—a blog geared for families raising a child with a significant medical condition.  Her writing has also appeared in The Huffington Post, Grown and Flown, and Modern Loss.