Even before the coronavirus compelled a new work-from-home arrangement, my husband Brad and I had begun the process of converting our son's bedroom into his office.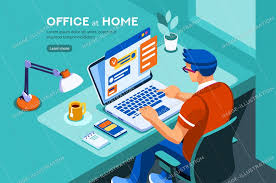 It's been almost four years since our son Robby died, and for most of that time the room remained much the same. We had donated and packed away numerous things, but his bed, his desk, his posters, his memorabilia still filled the room.
There were keepsakes from his favorite bands (Queen and Muse), movies (Star Wars and Lord of the Rings), and football team (Philadelphia Eagles). There was a pile of beloved stuffed animals, the orc mask he wore for Halloween, his yearbooks, and 14 years of karate belts including his prized black belt.
For a long while, we both took comfort in the room's continuity. I liked to curl up in Robby's reading chair and sit with the memories. It was easy to feel close to him in a place filled with items that were important to him. But it could also be painful, remembering him camped out there during his difficult illness, trying to sleep, or concentrate on schoolwork, or just retreating from the world.
Redefining the Space
We always called it "Robby's room", even after he was gone and Brad began to use the desk to pay bills or occasionally work from home.   And for a long time, he was content to function with Robby's stuff around him, almost like he was borrowing his son's space while he was away at school.
There was no single catalyst, but eventually the balance began to feel off somehow. I wondered how we could honor Robby's presence in the room, but also rethink the space so that it looked and felt more like it belonged to Brad.
We had already made room on the bookshelves for Brad's books and photos, but that was about storage, not the character of the space. Instead of feeling connected to memories, the room felt weighed down, yet it was hard to imagine something different.
My first instinct was to sort through everything in my own Marie Kondo moment. However, this is not my husband's way. Brad is a keeper of things, sometimes for their potential utility, and sometimes for their sentimental value. He saves wire hangers to fix almost anything, and he keeps ticket stubs from concerts or plays to use as bookmarks.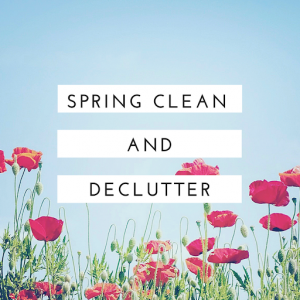 We knew this process would be more daunting than the usual closet-cleaning chore. Sorting through our son's lifetime of possessions is emotionally charged well beyond the "Should I keep this t-shirt?" deliberation of typical spring cleaning.
Each item sparks a memory of how it fit in Robby's life, or a vision of him using it. Even now, we continue to adjust to the loss of his physical presence in our lives, so it was difficult to ponder choosing which of his belongings would stay and which we could let go. Logically we knew that the Elmo puppet does not represent our connection to our son, but even precious memories fade, and Robby's possessions are a tangible artifact of his place in our lives.
Getting Started
I think it helped that we didn't begin with a specific end result in mind; we wanted to reimagine the room and how it could function. We didn't need the bed for extra guest space, so removing it opened possibilities for rearranging the furniture and décor. We wanted Robby's memorabilia to be one heartwarming aspect in a room mainly meant for Brad's everyday use to work or read or play music. But there were so many items to consider, and they all seemed so loaded that it could stall the whole process.
Getting Unstuck
At first, we struggled with determining the final fate of each individual item, so we decided not to decide on everything. We collected things in a box to consider later, ready to bring them back as we like. And by taking things off the walls and shelves, we could see more possibilities.
With more of a blank canvas, we could envision what else could come into the room. A home for Brad's many books gathered over years of browsing used bookstores, a place to work on the small projects he likes to build or fix, display space for antiques he collected or his favorite photos.
We kept the reading chair, but moved it to a sunny spot under the windows. We ditched the dilapidated Ikea desk for a brand-new one in a sleek mid-century design. And we hung Brad's guitar and ukulele on the wall next to him so he could pick one up to play on a whim.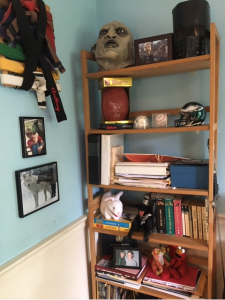 There was still plenty of room for Robby's things. The Eagles poster and signed game ball stayed, proudly declaring our enduring fan status. We gathered Robby's favorite books on a shelf next to his most cherished stuffed animals, the karate belts moved to a nearby corner, and his orc mask took a place of honor on the top shelf, overlooking the room. (Making a funny background for Zoom calls!)
I'm glad to say that the final result is a collective reflection of the individual interests and quirks of both Robby and Brad. It makes me smile every time I enter the room.
Making Space
We found that all this rearranging created a sense of openness – in a literal sense the room feels lighter after decluttering, and emotionally we feel lighter for resolving (again) how our memories fit into our day-to-day life. The process was like our other experiences with grief, with no official timeline or rules for how to proceed. For us, the key was to gently find a balance that welcomes the past in a livable space for the present.
And a bonus, for the first time in his life Brad gets a room all his own — having grown up sharing a room with his brother, roommates in college, and then married to me. I love seeing the well-deserved pleasure he gets being surrounded by his own chosen things.
Right now, I don't know what we'll call this space going forward. We're at an awkward transition point where nothing quite fits – it's not Robby's room anymore (which gives me painful pause even as I write this), but we're not quite used to calling it Brad's office. In some way it will always be Robby's room, just as he will always hold his place in our family. I do know that we breathe easier in this refreshed version of the room that is a place for his memories and the new path for us.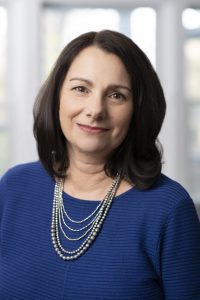 Caryn Anthony is a nonprofit consultant and executive coach from Silver Spring, MD, and is also chair of the Patient and Family Advisory Council for Children's National Medical System.  She is the author of "Any Way the Wind Blows,"—a blog geared for families raising a child with a significant medical condition.  Her writing has also appeared in The Huffington Post, Grown and Flown, and Modern Loss.