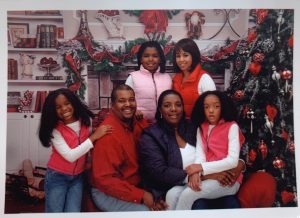 Ahhhh, December! Blustery mornings, snowy afternoons, and early evening sunsets; carols playing for holiday shoppers in overcrowded malls; Hanukkah menorahs, Christmas lights, and Kwanzaa kinaras. 'Tis the season to be jolly…
But I'm not feeling jolly today. In one week, my daughter will enter our local children's hospital for yet another surgical procedure. Today, I'm reviewing the pre-procedure/surgery questionnaire with our Autism Team and Child Life Specialists to ensure our surgical experience is appropriate for someone with developmental differences. An unfamiliar place with long, echoing hallways; bright unforgiving fluorescent lighting and a double sized waiting room full of anxious children, parents, and their other loved ones is not the way one with Autism desires to begin the day. So I meet with our team to strategize on ways to mitigate the impending meltdowns. We plan for the worst while hoping for the best and somehow, I pray, it will all work out in the end.
After that meeting I'll schedule our pre-operative care clinic appointment. We'll review an elongated list of medications, discuss allergies and seizure protocols, and determine the best way to administer anesthesia for my daughter's specific needs. Later this afternoon, my husband and daughter visit the pediatric rehabilitation hospital equipment clinic to pick up her new wheelchair. It's taken nine months to get it through insurance denials, appeals, approvals, backorders, and other delays. She's grown a few inches and gained more than several pounds, and I fear she may have outgrown the chair before she even gets it. I'm crossing fingers and toes and hoping for a Christmas miracle. Tomorrow we'll review our palliative care plan developed with our Family Centered Advance Care Planning Team. Once again reminding us of just how fragile life can be for someone with complex healthcare needs.
The weekend is replete with activities including our annual visit to see the Washington Ballet perform The Nutcracker, holiday parties for children, teens, and adults with special needs, preparing our other children for a busy week full of their various school winter recitals and concerts, mailing holiday cards to aging family members who can't read emails on their cell phones, packing for the upcoming hospital stay, and a myriad of other items that mysteriously appear on my ever-growing 'to do' list. I hope to get some rest but, as is often the case, a nap will probably elude me.
The holiday season is often a conflux of emotions in our family. Our teenaged daughters love to attend holiday parties and family gatherings; but they know the heightened sensory experiences are too much of a challenge for their sister, so she doesn't attend. I adore decorating the tree with loads of ornaments but I've come to learn that my Swarovski crystal snowflake collection is best kept safely tucked away and that with newer ornaments shatter-proof does NOT mean unbreakable. We have a lovely quiet Christmas Eve tradition because inevitably the over stimulating Christmas Day is spent monitoring seizures or making a trip to the Emergency Department. And this year we're adding surgery into the topsy turvy holiday mix. Am I a glutton for punishment?
Ahhhh, December! 'Tis the season… I'm simply hoping to successfully navigate the next few weeks. Maybe jolly will find me in January!