1/25/2016
·
Enable high contrast reading
This Palliative Care Doctor Helps Empower This Family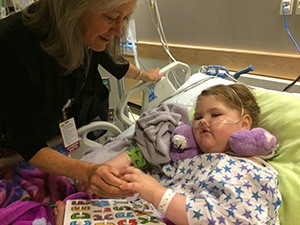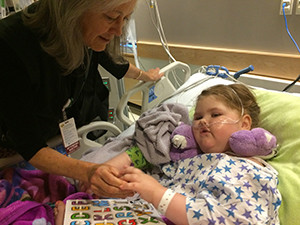 Dr. Patricia O'Malley has been a critical advisor to Courageous Parents Network since its inception. There is no one we admire more in this field than she, and the number of stories that are accruing of families helped by her is incredible. Indeed, we are happy to say that several families have sought out her services after learning about pediatric palliative care on this site! When we hear such stories, we are not surprised. We are motivated to share. Here is a story of how this palliative care doctor is making such a difference in the life of one beautiful child, Zoe, and her family.
After 31 years in the Pediatric Emergency Department at MassGeneral Hospital for Children, Patricia O'Malley, MD, has shifted her considerable energy to the hospital's Pediatric Palliative Care Service, where she is trying to make life better for children who are facing serious illness or lifespan limiting conditions.
The physician will help parents feel empowered to make medical decisions that could improve the quality of their child's life.
Palliative Care Inspiration
Even in the emergency department, Dr. O'Malley often worked with such families. "I loved being the doctor children with serious, life-limiting illnesses saw again and again," says Dr. O'Malley, who co-founded the pediatric emergency department and served for 25 years as its director. "These families inspired me to become a palliative care physician."
During her years in the emergency department, Dr. O'Malley also trained in pediatric palliative care and gained her certification in the field. "I think of palliative care as the art and science of using our medical knowledge to enhance joy, comfort, autonomy, safety and meaning in children's lives when their future is uncertain," she explains.
Friends say Dr. O'Malley is perfectly suited to provide such care. "Pat has always had the time to listen to both the child and the parent," says Paula O'Keeffe, a longstanding emergency department volunteer and an MGHfC donor. "Docs who listen are also very kind, and Pat embodies kindness."
Quality of Life Focus
Catherine and David Meinen learned as much when they met with Dr. O'Malley about their 6-year-old daughter, Zoe, who had been diagnosed with an extremely rare, and often fatal, brain tumor at age 3.
As a result of the tumor, and the chemotherapy and radiation used to treat it, Zoe became severely disabled, and she experienced terrible psychological trauma and physical pain for three grueling years. Zoe was symptomatic so frequently that she was constantly eligible for hospitalization, tests, and treatments. She experienced so many side effects, though, that her quality of life, and the quality of life for her whole family, decreased rather than improved.
Catherine wanted to try integrating a palliative care approach, but David was skeptical and thought it meant giving up the fight for their daughter's life.
Looking Beyond Crisis
To explain such care, Dr. O'Malley and Sandra Clancy, patient advocate and program manager for the Pediatric Palliative Care Service, visited the family in their home. Dr. O'Malley posed the question, "Given the medical realities, what do you want Zoe's life to look like?" The Meinens say they had never considered that they had any control over what Zoe's life could look like – they had always just tackled one medical crisis after another.
"Dr. O'Malley told us, 'You don't have to diagnose and treat every symptom if you think it will decrease Zoe's quality of life,' " Catherine recalls.
Then, Dr. O'Malley scheduled a meeting with Zoe's parents and medical team, including specialists in palliative care, pain management, psychiatry, oncology and neurology, and they made a plan of care.
Later, when Zoe was taken to Mass General's Emergency Department for severe respiratory distress, David Ebb, MD, Zoe's oncologist, was so dedicated to protecting Zoe and her family from the trauma of unwanted medical interventions, that he proactively informed the team of the family's desire to decide on all interventions, rather than be subjected to protocols, even if Zoe's life was in danger.
Empowered for Better Choices
Subsequently in the pediatric ICU, Catherine was invited to meet with the attending physicians during shift changes to discuss potential scenarios and interventions so that the incoming team was aware of the integrated palliative approach. Dr. O'Malley explained medical information, including life-supporting medicines and machines. These actions made Catherine feel very safe in such a precarious situation.
Both David and Catherine say they wish it were protocol for a palliative care physician to be present when a family is learning that their child has a condition that is likely to involve severe, chronic trauma or be life-limiting. They believe this would have empowered them to make better choices for their family from the very beginning.
To celebrate the quality of life Dr. O'Malley made possible for Zoe, the thankful family recently hosted a fundraiser for MGHfC's pediatric palliative care program.
This story was originally posted on the Massachusetts General Hospital for Children Website. 
note: Zoe passed away peacefully at home on February 7, 2016.
Watch video of Dr. O'Malley with another family she helped, talking about palliative care and decision-making.