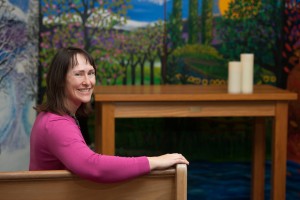 In my work as a hospital chaplain I am always looking for ways to remind children, families, and caregivers that they are loved and they are not alone. During busy and challenging times, it's easy to feel disconnected and isolated. Prior to becoming a chaplain, I was an elementary school librarian, and I have experienced first-hand the power of books. Reading a good book together can provide a safe space to share our wonders, worries, and wishes. The act of reading together, in itself, can create an enjoyable time to rest from the many challenges of the day.
One of my favorite books is The Invisible String by Patrice Karst. It's a children's book that also speaks to the hearts of adults. The story is about an invisible string that connects us with our loved ones wherever they are- at school, at home, at work, in outer space, in the deep jungle, in a submarine, and even in heaven. "Even though you can't see it with your eyes, you can feel it with your heart and know that you are always connected to everyone you love."
The reason I keep returning to this book over and over again is that its message can apply in so many circumstances related to transition and separation. Several years ago my chaplain colleague introduced me to this story as my own children struggled with saying good-bye to our beloved pastor who was retiring. My children found comfort in the idea of the invisible string and as a family we have incorporated this story into our rituals of saying good-bye. We pull on our invisible strings in the morning when we head off to work and school, when a parent or grandparent is traveling and we will be separated for a time, when we miss our friends who have moved, and when we miss a loved one who had died.
I have introduced this book to some of the families I work with in the hospital. Parents have said that reading The Invisible String with their children has helped their family talk about the feelings that arise when a child is in the hospital and separated from the comforts of home, siblings, pets, and school friends. Some of the children and families I work with have also used this book as a way to talk about their feelings related to grief and loss. They have found comfort in remembering the love that connects them even when they cannot see each other face to face.
In whatever circumstance you and your family may be encountering, I hope that you will discover ways to remember that you are loved.  I hope that you will find ways to stay connected with people who believe in you and who support you in the good times and in the challenging times of life. And I hope you will find time for a quiet read with a good book. Sometimes children's books, with their beautiful pictures and simple but profound messages, can be the best of all.
Ann Haywood-Baxter, MDiv, BCC
Chaplain, Boston Children's Hospital
                                                             The Invisible String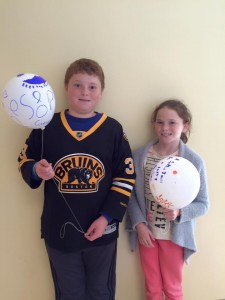 Review by:  Hannah Kuczarski, (age 10)
bereaved sibling to Sophia (age 4, 3 years gone).
I feel that this book would be good for families that are new to being bereaved.  I think it helps even at my age. It reminds me that I can always be connected to Sophia, even though I can't see her, she is still there.  I felt that the pictures were good.  I think it helps explain about being apart, but it is not complicated.  I also liked that it was not solely focused on the heaven part, but I still got it.  Even though you might have someone you lost you can still connect with them even if they are miles away or even in a different universe.  I think that they could have explained more about the Uncle Brian part though.  
I would recommend this book!
Hannah Kuczarski
The Invisible String by Patrice Karst, Illustrated by Geoff Stevenson, DeVorss Publications, Camarillo, California, copyright 2000