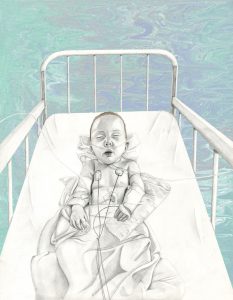 "Camryn's Dream" 2022
by Alanna, Camyrn's mother
Art can be a therapeutic way to be with and move through emotions and creates an outlet for those feelings. It also allows a lens for others to have a glimpse at those sentiments, in whatever way their own experiences will allow. "Camryn's Dream" conveys Camryn's deep serenity, peaceful spirit, and calm nature. Camryn is depicted with her lines and tubes to emphasize her medically fragile state and the artificial impositions she endured to sustain her life. The dreamy lavendar and seafoam green background represents the profound peace and inner comfort that we believe she felt, which allowed her to rise above the substantial and debilitating limitations of her body.
Another goal of this piece was to allow other parents of medically fragile children to see their little ones depicted in hospital art. When Camryn had her g-tube placed, this was a devastating time for me despite how calm and strong Camryn was. There was a book called Super Tubie that made me feel a little less "clinical" about it all. Seeing cartoon children with different means of parenteral nutrition having kid adventures, made me feel like Camryn was included and represented. Although "Camryn's Dream" is very different from Super Tubie, a common goal was inclusion and representation through art.
My wish was that any families who were traveling in the critical care halls and saw "Camryn's Dream," might feel a little less alone, that there is artistic representation of the inner peace and strength of a little one who may be like their own. At this point I have been unable to have this piece approved for display in a critical care setting as intended. A couple of Camryn's care teams have accepted the art in their more intimate office settings. "Camryn's Dream" is meant to represent, inspire and show strength and serenity— those who care or have cared for a medically fragile child may have a lens that allows greater access to that.