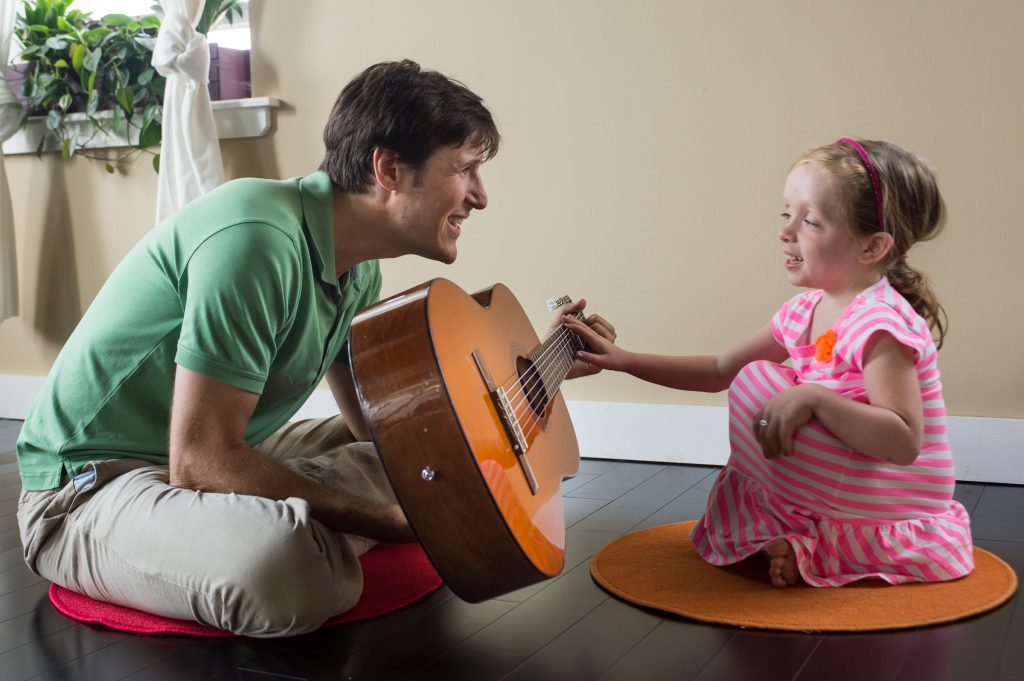 "Mr. Ryan, you're home!" This was the beautiful greeting that I often received as I walked into Zoe's house for our music therapy sessions. At the age of three, Zoe was diagnosed with Atypical Teratoid/Rhabdoid Tumor (AT/RT) brain cancer. The removal of the tumor and the resulting treatments resulted in Zoe having global developmental delays.
When I first heard about Zoe from her Music Together teacher, I volunteered to come to Zoe's home and play some music with her. Being a music therapist, I just couldn't resist working on some speech and communication goals during this music session. We had an amazing time together, and it was clear that Zoe responded incredibly well to music. Music therapy was the perfect fit for helping her regain some of the speech/communication, motor, and social skills that she had lost.
I began seeing Zoe twice a week and as time passed, it felt like I was becoming part of the family. Her parents were incredible and I felt honored to be able to be around their spirit, courage, and determination. I came to realize that although we were making progress with Zoe's rehabilitative goals, the true work was in the joy, self-expression and quality of life that our sessions brought to Zoe. The protective walls that she had built in response to the trauma she endured, slowly started to erode. The music, joy and laughter wore them down and her true spirit was able to shine through. It was a deeply moving experience to see her smiling, laughing, singing, playing and joking around. I started focusing more on giving her experiences where she could have back some of that sweet innocence, happiness and freedom that were taken from her.
Zoe and her family taught me so much and helped me realize that what I want for all children is for them to be able to experience the joy of being totally present and free. Free of pain, worries, limitations and anxiety. I'm striving to provide this to children with the guided meditations that I have created. I poured my heart into developing Cool Koala, Guided Bedtime Meditations for Kids, and I'm honored to offer it for free to the families of the Courageous Parents Network. Thank you so much for opening the door of your community to me. I am so very grateful.
Cool Koala is a research-based program (app) of imaginative and engaging bedtime meditations with calming music for kids between the ages of 5 and 10. The powerful combination of award-winning music and soothing meditations do so much more than just help kids fall asleep! The meditations teach children social-emotional skills needed for a life of happiness, peace and well-being. To receive a code enabling you to download the app for free email Emily@CoolKoala.co