7/16/2019
·
Enable high contrast reading
Beyond the Box on his Driver's License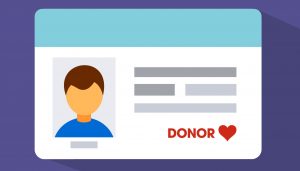 The phone rang at 3am. "Who in the world could that be?" I wondered as I sat on the bed with my husband and daughter – all of us in a fog of shock.
Only a few hours ago we were in the emergency department at Children's National Medical Center, devastated as my 20-year-old son Robby died from a massive blood clot to his lungs. He'd been seriously ill for some time, but the immediate trauma of his death was raw.
Despite my confusion, I answered the phone. A man introduced himself as a representative from the Washington Regional Transplant Community (WRTC). He was calm and kind as he expressed sympathy for the loss we had just suffered, and he explained that he needed to ask some questions about my son's decision to be an organ and tissue donor.
I struggled to process what he was saying. "Wait, do I need to do this now?" My mind was swamped by grief, and I was exhausted after hours of stress at the hospital.   The WRTC representative explained that organs and tissue must be recovered within a certain period of time to be viable, and they needed to get specific information in order to move the process forward.
I knew that being an organ donor had been important to Robby. We talked about the concept before he was sick, and then in more detail over the past year as his chronic illness became life-threatening. I was very proud of his decision and ready to support it – I just didn't think I'd need to implement his wishes in the middle of the worst night of my life.
The representative told me that there was an extensive list of questions to confirm our permission, and to collect the most recent data about Robby's health to assess what could be donated safely. It would probably take 30-40 minutes to complete the intake — Did I want to proceed?
"No!" I thought to myself…but I summoned the strength to do it anyway.
I used to think that being a donor was a pretty simple choice. You check the box on your driver's license, or give your permission as next of kin, and then it happens. The reality is more nitty gritty.
The WRTC rep asked for separate consent for each different organ and tissue – heart, lungs, kidneys, liver, corneas, skin, connective tissue, and brain. Some people are comfortable with certain types of donations and uncomfortable with others. They may agree if an organ is going to a person, but maybe not for research. Sometimes families want to preserve their loved one's body in some way for burial. WRTC was sensitive to the range of individual preferences, and ready to accept whatever limitations we wanted.
The rep also asked questions about Robby's condition and treatment. What medication had he been taking? What types of illness could he have been exposed to? In order to get a complete picture, he had to ask some surprising and personal questions. Had Robby traveled overseas in the past year? Did he have a tattoo? Had he been sexually active? Had he used alcohol or drugs recreationally? Which ones? I knew that the information would be kept confidential, but it still felt unsettling to delve into intimate details of my son's life with a stranger.
And I had questions too. My son had been very ill, so what could they still use? How many people could be reached? The answer was an unsatisfactory "We'll have to see…" because they wouldn't know until they could examine his body. Since he didn't die on a ventilator, his organs (like heart, lungs, kidneys) would not be usable after death, but there was a long list of many other possibilities from his tissue.
I've learned that organ donation can be delayed or even fail over the challenges I faced that night. Family members are sometimes too distraught to have a rational conversation. Or they're not ready to face the reality of what the recovery process will mean to their loved one's body. Or they fundamentally disagree with the choice to donate anything at all.
Any of these are completely understandable obstacles, and it's a lot to expect someone to be ready to engage in the process under such excruciating circumstances. Unfortunately, that is exactly what is required.
I knew that Robby wanted to give away as much as possible, to help others or to advance science. It was deeply meaningful to him that he could make such an affirmative decision when he felt powerless in much of his life, and I admire that he was able to think about helping others even amid his own profound struggles. So it was Robby's intentions that kept me focused during that 3am conversation, and it was reassuring to know exactly what my son wanted and why it was important to him. It didn't make the middle-of-the-night call any easier, but it made my role clear.
A few weeks later I received a letter from WRTC. It thanked us graciously, and described how his donations had been used. They had been able to recover my son's corneas which would potentially restore the sight for two other people. His skin would be used to create skin grafts that would treat numerous burn victims and other traumatic wound patients. And his brain would help scientists learn about diseases like Parkinson's or dementia. It was a surreal moment of maternal pride – even in his absence, look what my amazing son did!
For me, it was an act of trust and love to fulfill Robby's wishes about donation, and it is still a comfort to know that his final act on July 19, 2016 was one of generosity. This spirit is beautifully captured in a poem that was read at Robby's funeral:
When I die
Give what's left of me away
To children
And old men that wait to die.
And if you need to cry,
Cry for your brother
Walking the street beside you.
And when you need me,
Put your arms around anyone
And give them
What you need to give to me.
I want to leave you something,
Something better
Than words
Or sounds.
Look for me
In the people I've known
Or loved,
And if you cannot give me away,
At least let me live on in your eyes
And not your mind
You can love me most
By letting
Hands touch hands,
By letting bodies touch bodies,
And by letting go
Of children that need to be free.
Love doesn't die,
People do.
So, when all that's left of me
Is love,
Give me away.
-Merrit Malloy 
To learn more about donation visit organdonor.gov
To register to be a donor, visit RegisterMe.org.