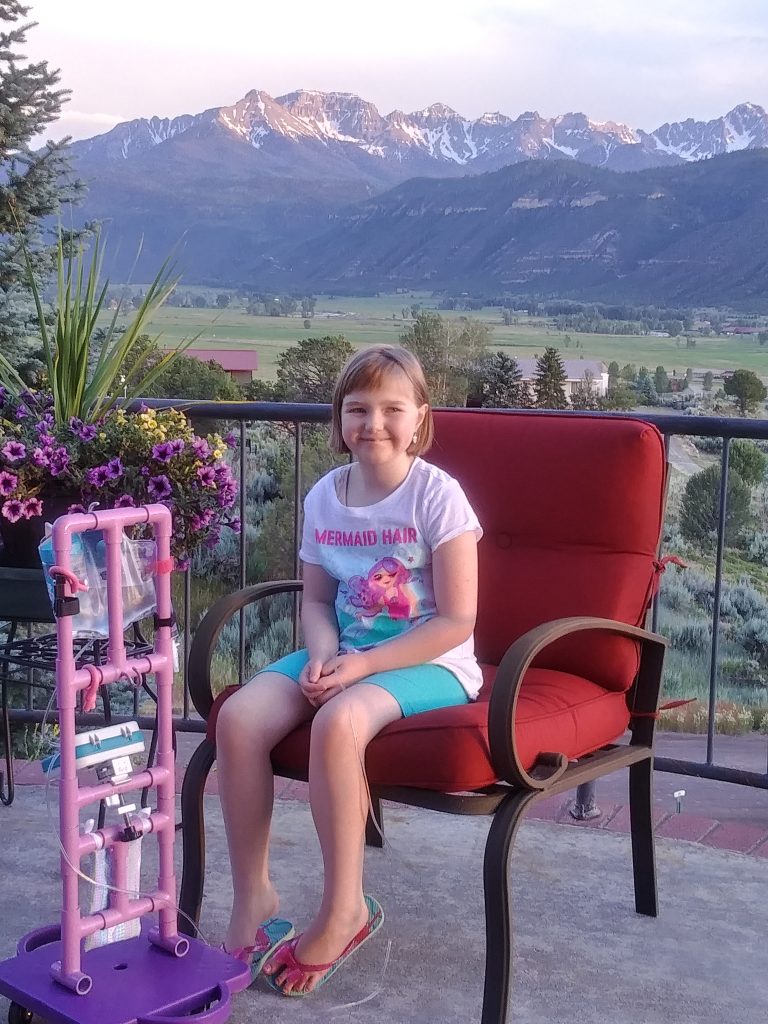 You might think that the hardest part about caring for a child with a chronic illness would be the day-to-day medical needs involved. That part is not easy by any means, but for me that is not the most difficult aspect of taking care of Andalyn. After the newness wears off, things start to feel normalish, or normal-adjacent as I like to say, as her medical care eventually become part of the routine. What actually wears me down is the never-ending care coordination and advocacy required to get her the care she needs. Whether it be quick and simple things like sending messages to her medical team to follow up on something minor, or complex and time consuming things like coordinating all the pieces necessary for her to go to school, it feels like a majority of my time and energy is consumed by advocacy. 
When engaged in the war of advocacy, my weapons can't be traditional weapons of warfare. Obviously, that not only would be ridiculous and ineffective, but also would make caring for a child quite difficult because prison tends to restrict freedom and other minor details. As such, I need to use different weapons and unconventional armor. Instead of tactical gear, I utilize logic and facts to prepare for these battles. Instead of a shield, I protect myself with research and knowledge about my rights. Instead of grenades, I use letters of medical necessity and other documentation. As much as I wish sometimes I could launch a missile to destroy obstacles standing in the way of what we need, I know that I have to utilize the drone strikes of persistence and self control to advance on these particular battlefields.
Sometimes I crash the drone when my temper gets the best of me. Other times in trying to carefully maneuver my way through a delicate situation, I stumble on a land mine that blows everything to pieces and a medivac has to pull me out of the carnage. These battles fought in my war of advocacy are as physically and emotionally draining as they are time consuming and ugly. And they are not without injury. Battle fatigue and PTSD in the war of advocacy is very real and can cause significant damage. Sometimes battle scars heal quickly and fade away over time until they are nearly invisible. Other times, pieces of shrapnel get lodged so deep they can't be removed and then when conditions are just right, the old wound throbs once more. 
There will always be another obstacle to overcome, another enemy to defeat, or another foreign land to navigate.  The rules of engagement, however, pretty much stay the same even when the battleground changes or new adversaries appear. The temptation to go AWOL or get discharged for disorderly conduct is hard to resist at times, but honor, loyalty, and the full weight of the responsibility I shoulder for my child, all remind me to focus on the mission at hand. The strength and endurance I need to survive isn't gained through physical conditioning or through practicing drills. Past experience and knowing who to radio for backup if I get into trouble are key to surviving these unique battles and living to fight another day. 
Recently, the company that provided Andalyn's IV nutrition and central line supplies announced it would be closing. Her medical team did everything they could to ensure a smooth transition to a new company. The GI nurses provided a list of the exact supplies that Andalyn needs, and with the exception of one or two items, the company confirmed they would be able to supply those things. To bridge the gap, the GI nurses generously gave us what the company wouldn't provide until a more long-term solution could get figured out. 
Our current TPN pharmacist also reached out to the new pharmacist to discuss Andalyn's unique needs, encouraging them to order the special supplies in advance so that by the time we transitioned, they would have everything Andalyn needed. In an effort to reduce stress for me, while maximizing quality of care for Andalyn, she also worked with the medical team and me to coordinate the timing and other details of the transition. She even sent some extra supplies with the TPN deliveries leading up to the change to ensure Andalyn would have what she needed until the new company got things up and running.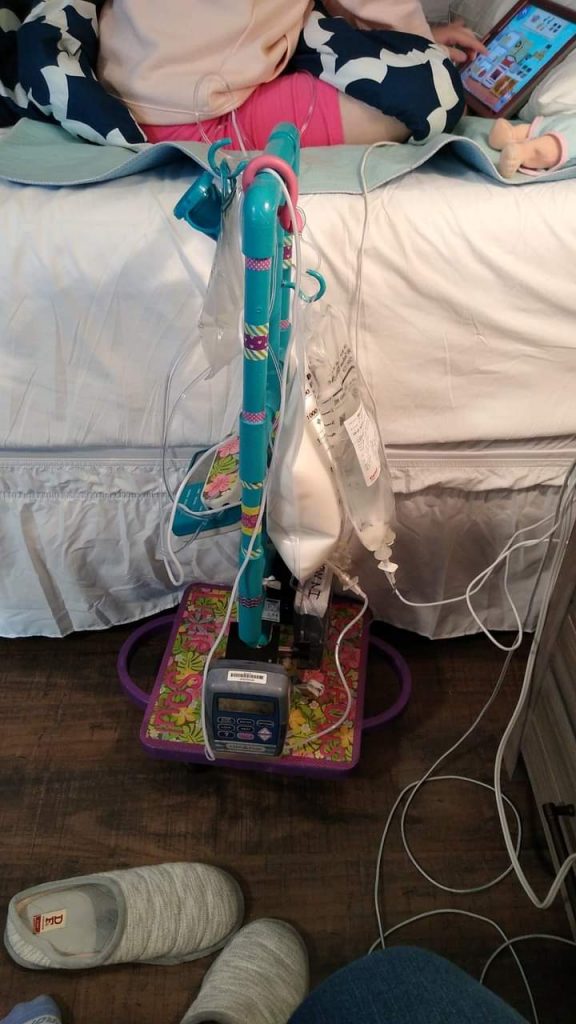 Despite reassurance from the new company, I quickly discovered what a nightmare it was to work with them. All the effort and advocacy for Andalyn seemed to have been in vain. In the very first delivery, they substituted most of the items on her supply list for their standard supplies. They also refused to provide several items, including those necessary for weekly dressing changes and a second pump for her IV fluid boluses. When I called to correct what I assumed was a mistake, I was told the supplies they sent were "close enough" and "basically the same" and that I could order the specific supplies I wanted online myself but they would not provide anything different than the standard items they have in stock.
I reluctantly agreed to try one of their dressings. I put it on the opposite side of Andalyn's chest, as far away from her Broviac as possible, in case she had a reaction. Sure enough, the next day she was bleeding and had a rash spreading across her chest. I removed the dressing and took pictures to send to her GI team with an update before I called the company. When I described how her allergy to the wrong dressings manifests in a blistering, itchy rash that she then scratches until she bleeds, it made no difference. The response I got was, "We don't special order supplies or deviate from our standard procedures until WE determine it's absolutely necessary. Even then, we only consider it after she tries everything we have available so we can decide if our products work for her or not."
I was livid that she was being forced to 'test' their products to see how bad the reaction would be when we already knew which products were safe and worked best. I pointed out that someone with a nut allergy would never be expected to eat multiple foods with nuts just to see how sick they would get, and yet this was what they were forcing my child to do. Apparently we had very different definitions for what "necessary" means. Sometimes in the war of advocacy you have to choose your battles. This was a hill I was willing to die on, so I went to war for my child.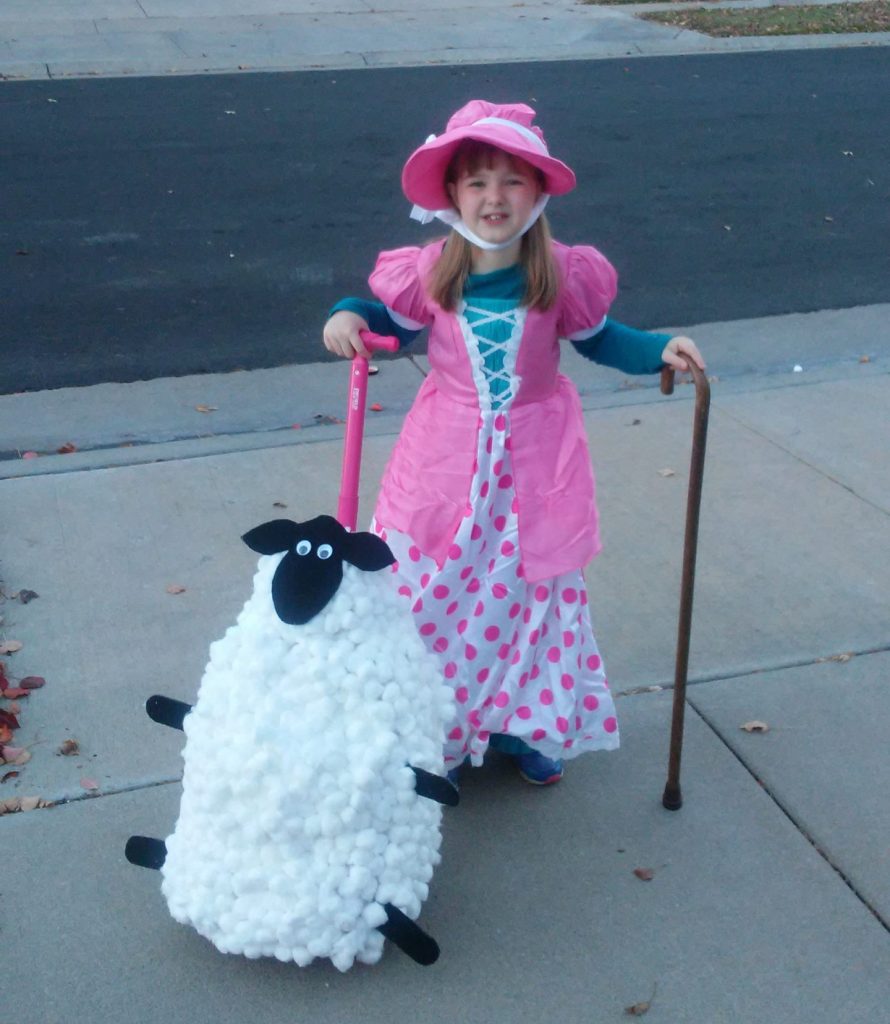 As for the second pump I asked for to infuse IV fluids, they refused. They wanted me to use gravity for IV fluid infusions when needed. Gravity drips make sense in a hospital setting or for a bedbound patient, but would be unrealistic for us. Even after I explained Andalyn uses a custom IV pole that would not work to do a gravity infusion because it is roughly three feet tall, they still refused to provide a pump for IV fluids. Instead they insisted she use a standard IV pole or a medical backpack and offered to send either of those. 
I couldn't get them to understand that even if I could somehow fit a bag of TPN, IV fluids, and formula, plus the TPN and feeding pumps into a medical backpack (which is impossible), it would be far too heavy for a child to carry. Obviously, I can't put a standard IV pole in my car but the one I designed and built for her fits perfectly right next to her on the back seat. She can't take a standard IV pole to school, the grocery store, or the park either. A standard IV pole also does not fit in our bathroom and other areas in our small condo. The one I made, however, allows Andalyn to move independently wherever she needs to go. One year I even figured out how to mount her TPN inside a rolling backpack that I turned into an accessory for her Halloween costume so she could trick or treat easily with her TPN. 
Insisting my child give up her mobility and independence rather than provide a pump for IV fluids was not only unrealistic, it was poor patient care. Eventually we chose a different solution for IV fluids,  but it was still very inconvenient. I would be lying if I didn't admit I got a tiny bit of satisfaction when the TPN pump failed and a replacement had to be brought to me in the middle of the night on a weekend. The irony is that this emergency trip could have been avoided if they simply provided us with a second pump. 
In the end, despite using everything in my arsenal, including a letter of medical necessity, calls, emails, and specific orders from her GI doctor, the company still refused to provide what Andalyn needed. Since it is useless to negotiate with terrorists, I had no choice but to go lethal and call in special forces to destroy basecamp and evacuate us from enemy territory. Intell pointed me in the direction of a potential asset in the form of a new homecare company. There was no fighting for resources, conflict or tense engagements over territory when we retreated there to take up refuge. Instead, we engaged in effortless peace talks and successful negotiations. Andalyn now has the things she needs to be comfortable, and I have the supplies that she deserves and that I need to keep her safe. Most of all, I have a new-found ally as I continue to wage the war of advocacy.  
Having to struggle on the battlefields of this war, I have grown far more than I ever thought I was capable of. I am much stronger now than I was when I started basic training and I have become quite skilled in the utilization of the unique weapons required for this special form of nonviolent warfare. Even though I won this battle, it didn't come without a cost: her pain and suffering, my anxiety, and sleepless nights. There were also some (not-so-minor) casualties-several large pieces of my sanity. Thank goodness for a medical team willing to climb into the trenches to fight beside me and call in the calvary when I need reinforcements. I may be on the front lines, but I have a powerful army behind me and I know that's the only way I will ever be able to win this war.   
About Amanda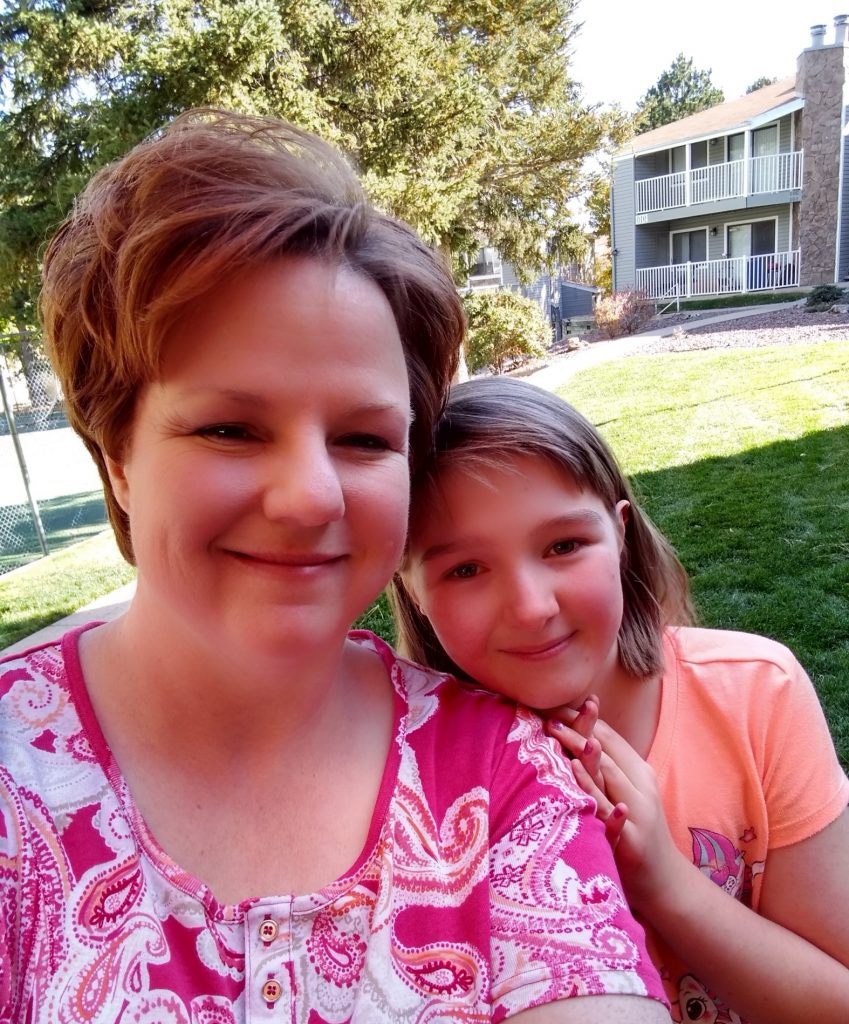 I live in Aurora, Colorado with my 12 year old daughter, Andalyn. I am divorced so I am navigating this journey as a single parent. We came from New Mexico in 2014 so that Andalyn could get the medical care she needed at Children's Hospital Colorado. After spending 15 months in the Ronald McDonald house, we officially became Colorado residents when we moved into an apartment. Andalyn has complex medical needs and multiple challenging diagnoses. I have spent her life striving to make things for her as normal as possible because so little of her world is in our control. I have no idea how much longer she will get to be here but she has already lived far longer than many suspected she ever would. I survive most days on Diet Dr Pepper, sarcasm, and a little bit of dark humor sprinkled in for good measure. I am a very sensitive soul that feels all things deeply but I have found a way to thrive through the power of connection. That connection is what makes it possible for me to do impossible things for as long as they need to be done.