5/30/2018
·
Enable high contrast reading
A Physical Therapist's Perspective on Shifting Baseline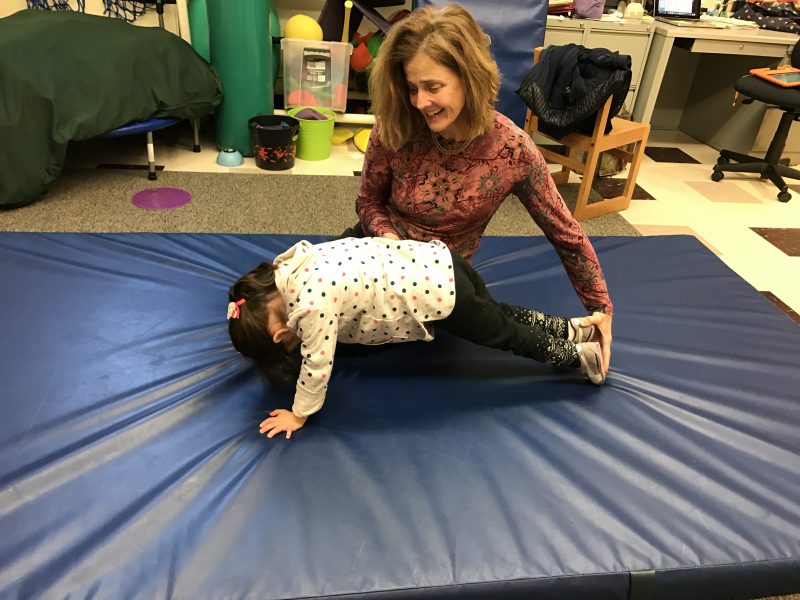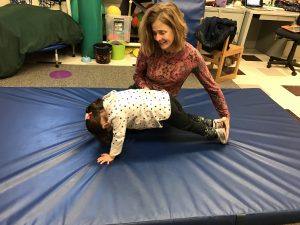 I've been lucky to have only had two jobs in my adult life.  This consistency in my work has allowed me to deepen the meaning of my work as a physical therapist, eventually learning to look beyond the textbook definition. I have spent time as both hospital and school PT working with kids through a range of age, health concerns and diagnosis. PT is very focused on the "fixing". We create care plans and set specific goals for improvement that push our work towards increasing the ability to better participate and enjoy daily life.
I've shared the journey of many kids and young adults who have severe, life-limiting illnesses. There needs to be a pause here.  Sharing the journey inspires, sustains and fulfills me. I've partnered with parents and my school district to broaden the sometimes boxed in definition of what it means to service children in the school and out of district school settings.  This means that besides the already awesome job of being a pediatric PT and working with kids to improve their function in order to maximize their access to the school environment, I have been an advocate, supporter of family's needs, an educator to families and staff, a bridge to the medical world and, simply a person who has learned to "hold space" with someone.
When I met Ben, a preschool aged boy with Sanfilippo Syndrome, I had not yet begun to hold space.  I had set many goals and was working hard to increase his flexibility, helping him get stronger so he could transition from the rug more quickly and use a mature pattern on the stairs with his classmates.  I was searching for more supportive seating that would allow him to stay seated longer during tabletop activities in school. I was making sure he was able to safely access the playground. I was definitely in a "fixing" mindset.
Early in Ben's elementary school career, it was clear that the public school setting was not the best place to meet his needs, and he transitioned to an out of district placement.  Years later, we reconnected at his out of district placement; an unexpected gift.  This new setting challenged me to think outside my previous role as his PT.  The classroom was different, the expectations were different, and my mindset had to be different too.  Preventing loss of function became a priority. Seating, positioning and comfort mattered a lot, as did getting outside and accessing the playground with assistance.  As we worked together, I talked about things we used to do, books I know he loved, and the farm animals I had recently seen. I stayed a few minutes longer. I found myself just being with Ben, holding space in a familiar, comfortable way.
In those months and years of service, I let go of some of the priorities I once had and grew to care an awful lot about what was important for Ben and his parents.  Like a daily routine of sitting up at the edge of a bed or couch together to chat at the end of a day or read a book.  We worked tirelessly to find the right positioning, and the strength to maintain an upright sitting position. I knew his time sitting next to someone, parents and teachers was time Ben still enjoyed. I wanted to be sure he kept this joy for as long as possible. Improving access to traditional education lost some importance. Life experiences replaced traditional educational goals because our focus was now on his quality of days. And we needed Ben to have as many of those as possible. I consulted on seating, positioning and movement activities/stretching as needed. I stayed a few minutes longer. I couldn't fix any of this.  But I could walk along in the journey, and just be present.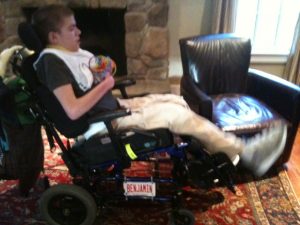 In the course of my work, I've thought a lot about the parents and families I have met.  For most of them, I think there is nothing linear about their journey. I watch as acceptance and denial race along like a roller coaster of ups and downs. I think there are times during this journey that a provider (teacher, doctor, PT etc) can have varying impact: sometimes no impact at all, and sometimes, we can actually make a difference for a child, and for a family with our words, and our knowledge.  When we meet, I try to remind myself of this, and always consider what parents bring to the table, and where they are in their journey.  I try and put their agendas first, as I consider how to move forward. I have found that I can shift goals to meet changing needs as children move to a new baseline. I now know that I do not have to be the "fixer" all the time, and that the other layers of being a PT are equally important and fulfilling. Finding the right words, at the right time, and presenting them in the right way is the challenge. I don't always do it right. When I do, it all feels worth it. Sharing the journey, I know is worth it.
Beth Quinty worked for 10 years as a physical therapist at Boston Children's Hospital.  She currently works in a public school in MetroWest Boston. She is the mom to three children.
If you are interested in contributing a blog please email connect@courageousparentsnetwork.org. Our upcoming topics are marriage, voice of the father, making memories, participating or not participating in a treatment.