5/24/2022
·
Enable high contrast reading
A Death Smile: A doctor's poem to a patient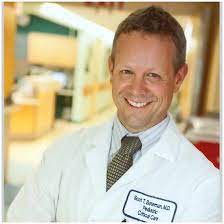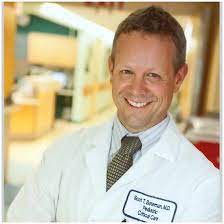 Dr. Scot Bateman, now a PICU MD, wrote this poem as a 2nd year resident. If ever we need evidence of how providers can be open to and touched by their patients, here it is. If ever we need evidence of how impactful honesty — delivered gently and lovingly — is to the care that children and parents seek, here it is. If ever we need evidence of the courage of children AND clinicians in the face of the limits of modern medicine, here it is. 
Thank you Scot for writing this beautiful tribute to Emily, and to letting us share it here on CPN these many years later.
***
A Death Smile
I told Emily a joke every day I knew her
A dying child is still a kid
Who can and wants to smile
An 11 yr old with relapsed T cell lymphoma
Bald, steroid chubby
Bed bound from weakness
Innocent and open
Loved and loving
Radiating hope
And trust in me, a second year resident
Admitted as a "last ditch"
Racking her body with one more round
Of energy sapping chemicals
Hoping
Day after day, I try to treat
Expected and unexpected complications
Learning as much as I can
About medicines and side effects
About central lines and infections
About tumor cells and growth
Emily knows and appreciates this
As much as every new joke
But the tumor ravages on
Nothing seems to be working
Her pain is real
She knows that I see this
The jokes are for her
"Why do Gorillas have big nostrils?"
Palpable anticipation of her laughing is fun
"Because they have big fingers"
Her laugh is hearty and genuine and infectious
But the jokes are for me too
She gets equal pleasure seeing me smile
It metastases to her spine.
Morphine drip becomes our main therapy
"It's not good, is it?" she says through knowing tears
"No, it's not," is all I can honestly say
She contemplates that answer
Suddenly, she asks
Curiously, earnestly, and fearfully
"Scot, what is it going to feel like when I die?"
My shock at her question
Induces a surreal state of mind
By stretching my preconceived notions
Of doctoring and caring beyond my boundaries
No one taught me how to answer that in medical school
Words used particularly with kids
"You can fight,"
"Be strong,"
"Hold on."
Come to mind
But they're hollow
Her look demands honesty
We both know she is dying
I pause and ponder
The unknown and the unknowable
Hoping the words come out right
"I think you will probably feel like you are falling deeper and deeper asleep,"
Says a slow, serious voice that quivers
"You will find it harder and harder to wake up and see all of us here,
But finally you won't be able to wake up.
Instead, you will be in your dreams from then on."
The words hang in the air
As she stares at me
With her own lie-detector
Her first words astound me
In their nobility and unfailing hope
"I like my dreams," she finally says, resolutely
She starts crying uncontrollably
But I sense relief and a peace
Acceptance not fear
And I see just grace
My eyes have not been dry since her initial question
They let loose as well
I marvel at the depth of my sorrow
That our medicines and best intentions have failed
A child
But these tears calm me too
By finally being able to help this little girl
Somehow
Even if it was only hope in a dream
A few days later
Slipping in and out of consciousness
Emily starts saying goodbye
When she can
To family and friends who cared
One by one they leave her room
Shaking their head in disbelief
Wiping away tears
Later, alone with me in her room
Barely able to open her eyes
She wearily asks for a joke
As a joke
It is hard for us to smile
She motions for me to come closer
I lean in
"Scot," she whispers
"You are going to be a great doctor."
I look at her in utter amazement
Fumble for words of thanks
And feel so incredibly and deeply honored
By this beautiful gift
Yet, humbled beyond belief
Incredulous that her faith in me
Lasted longer than her body
My feeble definition of a good doctor
Altered and expanded forever
That is all she said
She drifted off into her dream world
And passed away that night, peacefully
A huge void existed the next day on rounds
One that was difficult
To fathom or interpret or describe
But in that emptiness
Was the beginning of a fullness
A spark of inspiration
That grows and grows
And blesses my life as a physician
Thinking of her now
Tears well up in my eyes
Such a tragic loss of a beautiful spirit
But ironically her memory
Enlivens each day with hope
Giving me the courage to smile
Can there be such a thing as a death smile?