Bearing the Unbearable
Love, Loss, and the Heartbreaking Path of Grief
By: Joanne Cacciatore, PhD
~ A book review from a grieving momma, Brenda Murray ~
I was so pleased when Blyth asked if I would be willing to read Bearing the Unbearable and report back to Courageous Parents' Network with my thoughts.
My son, Samuel, passed away last September. I hadn't read any books to help navigate my grief at that point, though I thought perhaps I should. I had no clue where to start, so the timing was perfect! We were heading out on a family trip and I told her I would take it with me for reading material. She suggested that maybe I shouldn't, as the subject matter might be a bit heavy for a vacation.
What Blyth didn't know was that the subject matter was actually perfect, as our family "vacation" would include more than I had shared with her. Sam's ashes would be traveling with us, sealed in a plastic container, lovingly wrapped in brown paper, and taped shut by my husband. Written on the package was the word "SAM."
Exactly 5 years earlier, we'd traveled to the same spot in Wyoming with our three boys — Solomon, Simon, and Sam. Sam, in his wheelchair, sat with us next to that beautiful mountain stream and loved every minute of it. During our family's first time there, Sam and I had an opportunity to share a quiet moment together, alone, during which I leaned into him and whispered, "I'm bringing you back here someday, I promise." The memory of that moment was etched on my heart forever.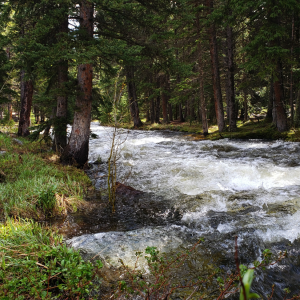 And thus, five years later, we made the trek once more to the same spot where I'd sat with him and made that promise. This time, as we spread his ashes, all felt right with my soul though my heart was breaking as I watched the ashes swirl and head down the stream. It was my son's literal body: tangible & symbolic. Giving him back to the earth somehow seemed right to me. A sign to the universe that he was truly free. After all, a promise is a promise.
I learned afterwards, while reading "Bearing the Unbearable," that physical actions ("homework") like our ritual at the stream, are necessary on the path of grief. They hurt, they are "unbearable," but they are truly necessary. The thought of running towards our grief, rather than away from it, goes against every fiber of our being. While it's not instinctual to run into a burning building, it is nevertheless sometimes necessary — just like facing emotional pain. Joanne Cacciatore does an amazing job of explaining this in her book.
Each chapter features a different individual and the story of their loss and grief journey. I love the fact that her book doesn't touch only on stories of parents who have lost children, but is so much more. Losses come in all shapes and sizes… infants, spouses, children, partners, parents. Even though the author's examples of loss aren't exactly the same as the reader's experience, I found myself relating to some part of each story. Grief has common threads that run through all of us.
The book also discusses how our society, in general, manages grief so poorly. An excerpt I noted says, "Such a society pushes mourners to assign more negative self-judgements and erroneous meaning to their grief reactions. This may include ascribing to ourselves inadequate adjustment ("I should feel better by now"), personal incompetence ("What is wrong with me?"), or even mental illness ("I have major depression")." I have found myself saying all of these things at one point or another over the past year. But when I take a step back, I find it's the parameters set forth for mourners by society that induces these thoughts: I question my stages of grief because of what I think others think of me. Joanne challenges us to change the way our culture views grief by talking about it more, being honest and raw, and at times bearing our soul so others may know they are, in fact, not alone in those isolating dark times.
I need to add that it took me way longer to read this book than it should have. In fact, I found myself apologizing to Blyth several times for not getting the review to her sooner. It took me longer not because the act of doing so was difficult, but the content was a lot to absorb. I found myself, at times only able to read a chapter a week. I needed time to digest and work through my own emotions that were being stirred up. In the end, I was grateful for this grief "homework." It brought welcomed healing for me.
I highly recommend this book to anyone who is grieving. It is not situation specific. It applies to you and to me, to your neighbor, your friend, your mother, your brother — all of us. At some point in our lives, we are all called upon to carry something truly unbearable, and there's nothing better than knowing we're not alone.