Register for Event:
"Shared Decision-Making" - What Does This Actually Mean and What Does It Look Like?
June 20, 2023, 8:00 PM EST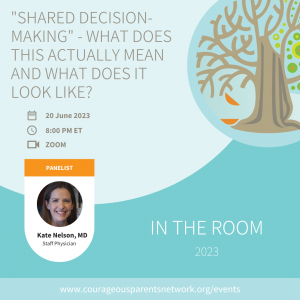 "Shared Decision-Making" – what does this actually mean and what does it look like? As caregivers of seriously ill children – and as pediatric clinicians – we make decisions in both our head and our heart; and they aren't always aligned. Nor are parents and clinicians always aligned. Is it possible for both the clinician and the parents/caregivers to share a decision on behalf of the child? What happens when the two parties aren't on the same page? Which party should be driving the decision-making process?
In truth, shared decision-making looks different depending on the situation. As with everything we try to do at CPN, we will move beyond the jargon to get both concrete and relational about decision-making when caring for a child with serious illness. This session will explore the dimensions of shared decision-making and give participants a framework for considering the variables (including medical facts, personal values, personal preferences, risk tolerance).
The event is featuring Kate Nelson, MD – Staff Physician, Pediatric Palliative Care at Toronto's Sick Kids for Children Hospital.