Register for Event:
IN THE ROOM: Putting the Self Back in Care
September 23, 2021, 8 PM EDT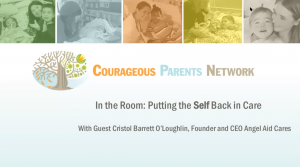 Caring for a medically complex child is a full-time job – a job done with the greatest love,
devotion, and tenderness. But at times it is also overwhelming, exhausting and can leave you
feeling depleted. Finding the time to tend to yourself can seem impossible when your life feels
like one big "to-do" list and when spending time caring for yourself can bring forward feelings
of guilt. You may also feel like your child's physical well-being does not allow you to take a
break, especially if homecare nursing or assistance is lacking.
Join CPN's Blyth Lord in conversation with Cristol Barret O'Loughlin, founder of ANGEL AID
CARES — a non-profit supporting caregivers — to explore ways to tend to your inner and outer
self, and to reframe your daily acts and inner mindset into forms of self-care.
You will even pick up a few "tools" to add to your selfcare toolbox!