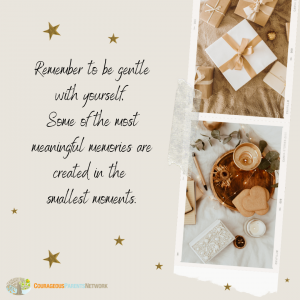 Event
IN THE ROOM: Here Come the Holidays
November 17, 2021, 8 PM EST
Wednesday, Nov. 17, 2021
8pm EST / 5pm PT
For families of children who had or are living  with a serious illness, the holiday season can be a mixed bag. A bag filled with joy, comfort, and love but often also anxiety, sadness, and isolation. Join members of the Network, in a moderated discussion about the complex emotions that accompany significant days, strategies for coping, where to find joy and ways rituals may help  during the holiday season.
After a short introduction and discussion about common  concerns, this IN THE ROOM will offer an opportunity to continue the discussion in a break-out room specific to your current family situation.
Room One: Join moderator Danielle Faye Jonas, LCSW to discuss making space and time during the holidays to find joy or sit with sadness while caring for your seriously ill child.
Room Two: Join moderator and CPN staffer, Kerri Padgett to discuss honoring your child who died and navigating grief during the holiday season.
We know finding time during the holiday season can be hard. We hope that you will join us – share your holiday dreads or successes, tips for celebrating or advice for simply finding your way through.