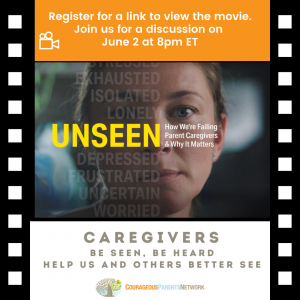 Event
A screening of Unseen: How We are Failing Parent Caregivers and Why it Matters
June 2, 2022, 8:00 PM ET
Watch an archived recording of this event
Courageous Parents Network was proud to host and offer this limited private window screening (for you, on your own time) of the new 45:00 documentary UNSEEN: How We're Failing Parent Caregivers and Why it Matters, followed by a live IN THE ROOM gathering of the CPN community of parents and clinicians to discuss together:
What resonated with you?
What you feel is missing?
What else you would want clinicians, bio-techs, patient disease groups, extended family, your community to know about the lived family experience?
Your thoughts on what ELSE people can do to help families like yours?
What solutions – if any – are available where you are, at any scale: your family, your friends, your community, your state?
Sadly but bravely, there was so very very much to discuss. Courageous Parents Network will gather the collective wisdom and organize it into something concrete to share with clinicians, industry, the broader community.