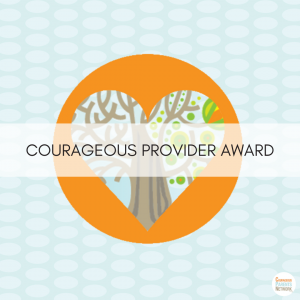 Event
2022 Courageous Provider Awards Ceremony
December 8, 2022, 4:00 PM ET
Please join us live (on Zoom) for a special learning event celebrating the 2022 recipients of the Ilene Beal and the Margaret S. Lindsay Courageous Provider Awards.
This hour promises to deliver a glimpse into the relational art of the pediatric care experience – both how it is delivered and how it is received – and how empowered parents and enlightened providers can do the unimaginable together.
When: Thursday, December 8th at 4:00 pm ET (3:00 pm CT, 2:00 pm MT, 1:00 pm PT)
WHAT I LEARNED ON THIS JOURNEY WITH YOU
Reflections from Courageous Providers and their Patient Families
Celebrating:
ILENE BEAL COURAGEOUS PROVIDER AWARD
Erin Flanagan, MD
Advocate Children's Hospital
Park Ridge, IL
Sara Perszyk, RN, BSN, CHPN
Empath Health
Clearwater, FL
MARGARET S. LINDSAY COURAGEOUS PROVIDER AWARD
Anne Anderson, RN
Seattle Children's Hospital
Seattle, WA
David Sine, MD 
Valley Children's Hospital, Hinds Hospice, Hoffman Hospice, and Kaweah Delta Hospice
Madera, CA
Courageous Parents Network is grateful to the Ilene Beal Foundation and the Margaret Stewart Lindsay Foundation of 1989, whose generosity makes it possible to honor and celebrate these leaders, and to the providers, patients and families that nominate them.