4/13/2023
·
Enable high contrast reading
Why Show and Tell is Important in the Face of a Devastating Diagnosis: Helping Siblings Understand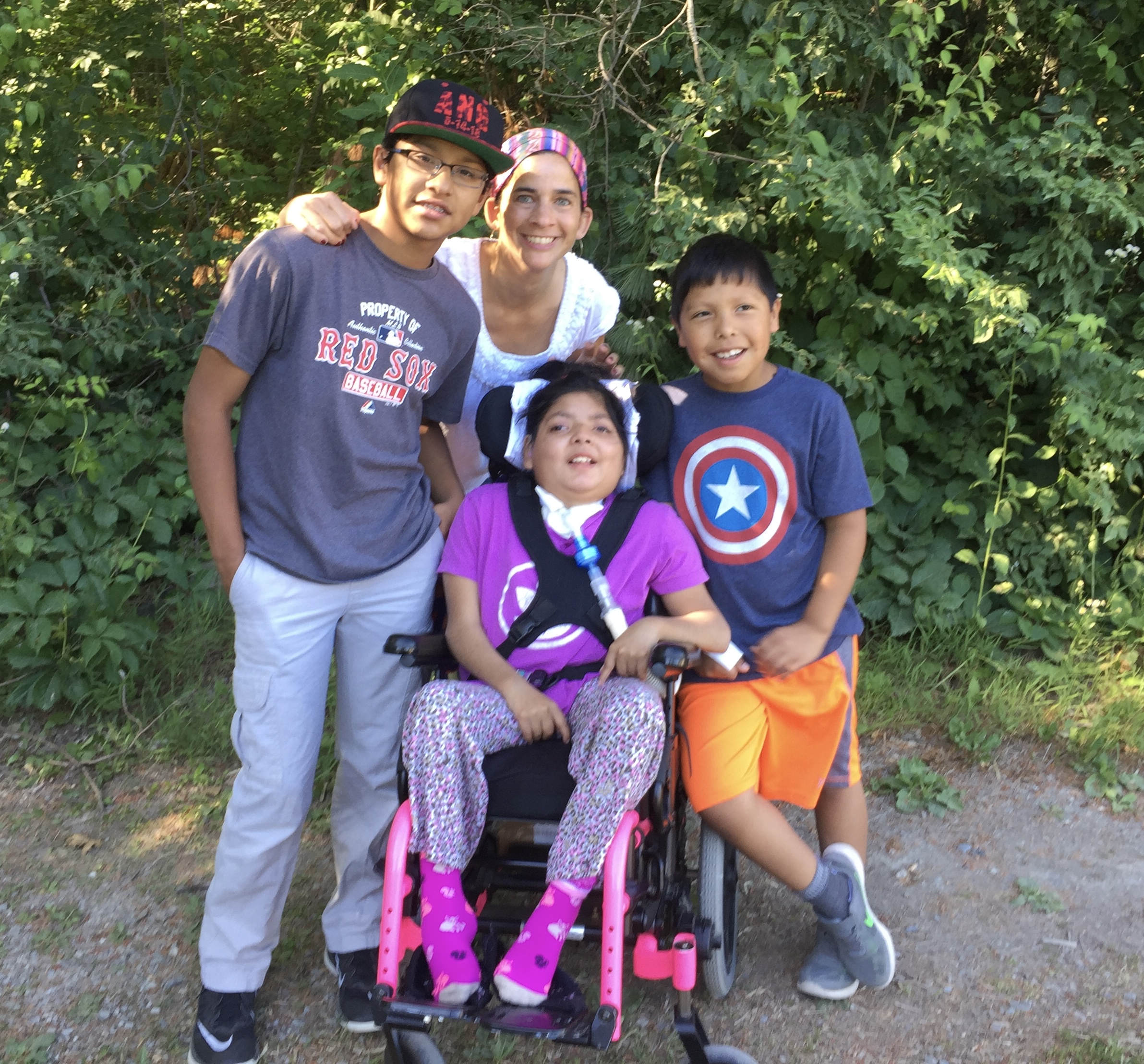 When my daughter Dalia was diagnosed with MERRF Syndrome at age 5, I shattered. I didn't realize it then, but every bit of the overwhelming and confusing diagnosis made a hairline fracture in my soul that grew more painful with time.  
At 9, Dalia caught a cold that became pneumonia, requiring intubation and then a tracheostomy. We spent three months in intensive care and when we returned home Dalia needed a ventilator to breathe and used a g-tube for her food and the more than a dozen meds she took each day. 
I was in pain and exhausted. Fear flowed through my veins, swimming right alongside the nutrients and oxygen that sustained me. 
But I kept all this to myself. My role, I knew from the start, was to be strong. I couldn't let down my guard for a minute. Dalia and my two other children and my husband needed me. And besides, there was too much to do to give in to the fear and sadness. There were nursing shifts to coordinate and meds to administer and equipment to stock. I had a job to do at home and another one that was paying me. And above and beneath all of it was the most important thing I had to do – give all three of my kids the most normal and happiest childhood possible.
Who was I kidding though? Nothing about our lives was normal. 
At first, before the trach and the g-tube, we tried to minimize Dalia's diagnosis with all three of our kids. We didn't know how fast the disease would progress or where in her body it would strike next, so we focused on what was in front of us each day. Physical therapy and speech therapy and all the other therapies took our time. We made spreadsheets to manage the logistics and focused on the pixels that made up each day instead of the big picture. 
My husband and I never made a formal agreement with each other, but we intrinsically understood that we'd present a united strong front for our family. We didn't want them to be afraid. We wanted to bear the fear for them. 
Later, when the disease progression was undeniable, my husband and I stepped up our game. We never cried in front of the kids, or even in front of each other. We told them that we were focused on making each day as happy as possible for Dalia, and we meant it. We told them the most important thing was that Dalia knew how much we all loved her, and I suppose we meant that, too. What we didn't tell them was what was obvious. Dalia was getting sicker; our hopes for a recovery were now fantasy. 
We also didn't tell them that we were scared and angry. We didn't tell them how sad we were, and we didn't show them, either. 
Our doctor, who was a partner in Dalia's care whom we trusted, respected, and grew to love, suggested we share more with Dalia's siblings. Every few months, he'd offer to come to the house to join us in a conversation with them where we could discuss what was happening. He'd answer their questions, he offered. He'd explain the physical changes and be a sounding board for the emotional implications. 
Over and over, we politely declined. We might have all been living a bit of a charade, but wasn't that better than the alternative? We thought a conversation would terrify them. We didn't want them to know how dire the situation really was. 
In retrospect, of course, this seems absurd. Dalia was losing her functionality. She couldn't talk anymore. Then she couldn't point or nod her head, "yes," or shake it, "no." She couldn't blink so we had to tape her eyes shut when she slept to prevent her corneas from drying out.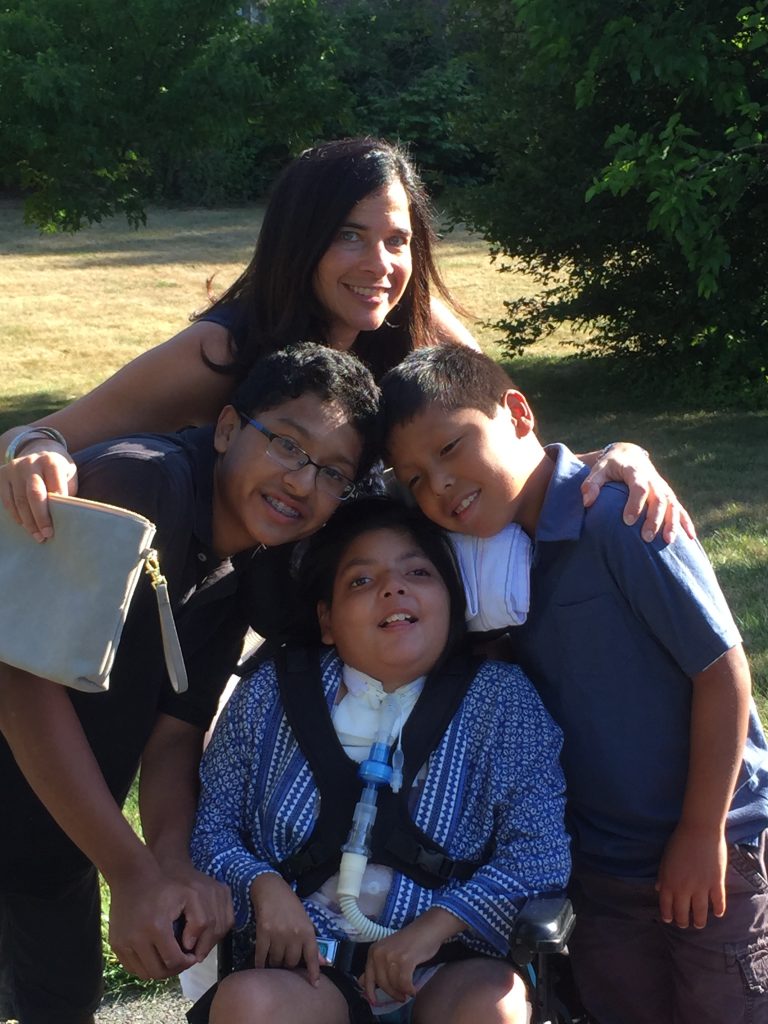 But we still brought her to the dinner table every night. We went on long walks, taking turns pushing her wheelchair. She went to a special school on the grounds of a hospital with a private nurse beside her. And we carried on.
But then one night, shortly after my husband and I had turned in for the evening, our eldest, then 16, came into our room sobbing. "Something's wrong with me," he began. I bolted up in bed. "What's going on?" I asked? "Does something hurt?" It took a while for him to get the words out, but when he did they poured.
"I'm just so scared about Dalia. I pray and I pray and I pray, and she doesn't get any better. She's the best person I know. I don't understand why this is happening to her. But you two are fine," he said, looking up at my husband and me. "You're so strong. What's wrong with me?" 
Now, finally, the fractures split wide open. I broke down in front of my son and my husband and I realized how overdue my breaking was.
All along we'd been trying to protect our kids, and in doing so we'd built a barrier between us. Our "strong front" was disorienting at best and scary at worst. I imagine now that at night my children sat in a room together wondering if my husband and I understood just how bad things really were. Meanwhile, my husband and I were downstairs in our room wondering if our kids understood the same thing.
My husband and I wrapped our eldest in our arms and wept along with him. It was excruciating, but it was also a huge relief. We apologized over and over. We promised him his feelings were valid and to be expected. We told him we felt the same way he did. We promised to be more honest moving forward.
When people ask me now what I wish I'd known then, the value of open and honest conversation with all of my children rises to the top. But I know it now and I'm not likely to forget it. And I know that being whole for my children means letting them see where I'm broken.
---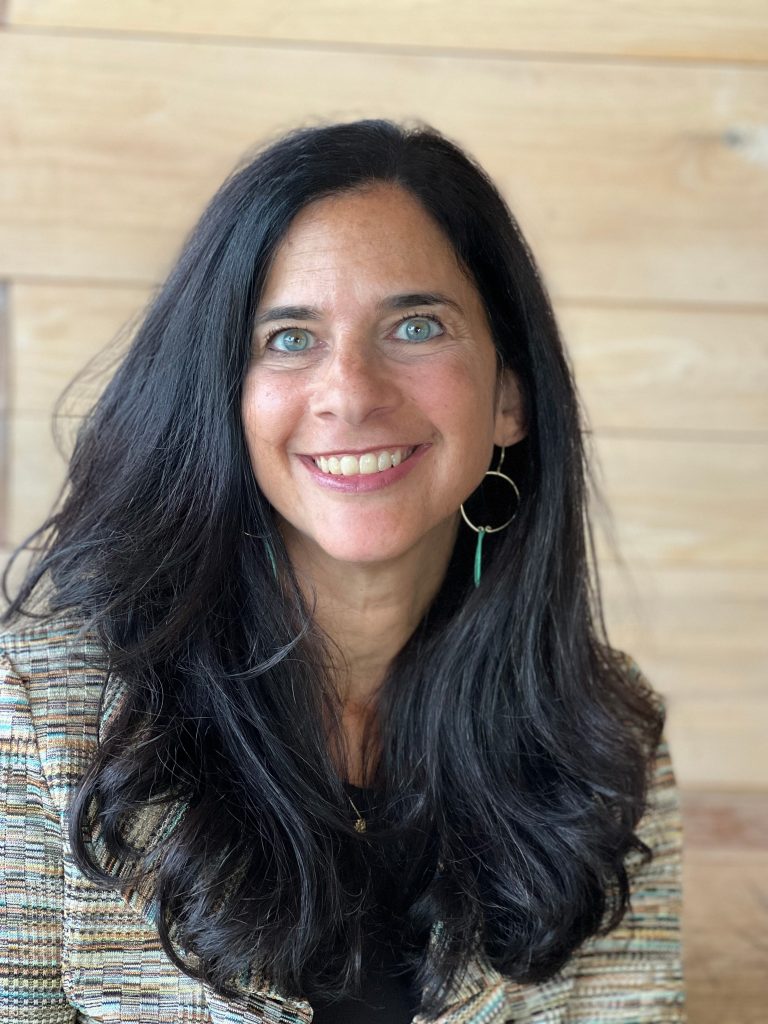 Jessica Fein writes about the mingling of joy and sorrow, mothering a child with a rare disease, and staying rooted when life tries to blow you down.  Listen to her podcast, "I Don't Know How You Do It," wherever you get your podcasts. Her memoir, Breath Taking: Rare Girl in a World of Love and Loss, is coming in 2024 from Behrman House Press. Visit her website or connect with her on IG for real talk about love and loss @feinjessica
Jessica is a CPN Blogger in Residence, an opportunity available through support from Sanofi.