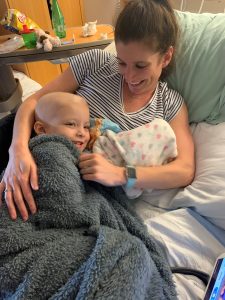 I am a pediatric psychologist who works with children with life threatening illnesses and their families. When my 3-year-old daughter Molly was diagnosed with cancer in April 2020, some of the first people I told were my colleagues on the pediatric palliative care team. During the next few days, the conversations were more typical of those I was having with my other friends – tangible offers of support for myself and my hospitalized child as well as for my husband and child at home, gifts being delivered to the house and messages of hope. Because many of them were also working at the hospital, there were small things that outside friends could not provide, such as leaving coffee and breakfast outside the hospital room, but the sentiment was the same – we are here, how can we help, we got this.
However, around day five, a second type of cancer was found and Molly went from being a standard risk leukemia patient with a very good prognosis to a huge question mark in terms of a plan for treatment and what her life would look like as a result. As the oncology team worked around the clock to elicit opinions from the worldwide pediatric oncology community and develop a treatment plan, I began to send my palliative care colleagues more questions about what this proposed treatment would look like for my child and my family. On the day that we received the final pathology report definitively showing my child had two separate cancers, I requested that a formal palliative care consultation be placed. 
Over the past 15 months, my colleagues on the pediatric palliative care team have been a huge part of Molly's care. As I reflect back on my experience, I am struck by two pervasive themes. First, what my initial reasons were for getting this team involved and how this has played out. And second, the numerous additional benefits that I had not anticipated. At this point I think it is important to acknowledge that I came into this experience with a strong bias about the benefit of early palliative care involvement and also a knowledge of palliative care that is not typical of most parents in my situation. I have spent my career as a pediatric psychologist collaborating with palliative care teams and being mentored by palliative care researchers. Prior to Molly's illness the palliative care team covered a small portion of my salary and I was an active member of their team. Perhaps most importantly, I did not equate palliative care involvement to mean my child was terminal or was approaching the end of her life.
My Initial Reasons for Involving Palliative care at the Outset
As information about the treatment plan started being conveyed, my biggest concern was around symptom management. The treatment plan the team was proposing was completely unique to Molly. While each individual drug had been used as part of standard protocols and had an established side-effect profile, the combination of drugs had not and therefore the potential side-effects and the severity of side-effects was completely unknown. This was terrifying. If there was no experience using these combinations of drugs, then I wanted a proactive plan for symptom management. And I knew that this was an area in which palliative care clinicians are second to none.
Not only was I worried about the acute symptoms (nausea, mouth sores, nerve pain, etc.) I was also worried about Molly's quality of life. At this point no one had any idea about her prognosis or how long her life may be. So while the intent of treatment was curative, I was also very mindful (although unable to articulate at the time) that I wanted her time to be high quality. I wanted her to be able to get home and be able to play with her twin sister. I wanted her to be able to play outside without worrying about pain. I wanted her to learn to swim.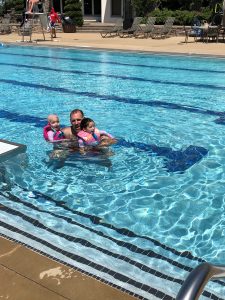 Over the course of the next few days, the palliative care team helped me articulate these goals. Once established, they took action. Because there was no standardized symptom management plan, it seemed that they had more leeway to think outside the box and try medications that were not part of the standard protocol. Olanzapine, which was started to proactively prevent nausea, was a game changer for her and she made it through six rounds of chemo with pretty minimal nausea.
After the treatment plan was established, the palliative care team also helped my husband and I understand what would be coming, and again, make proactive decisions that would hopefully give her the best possible quality of life. At their suggestion, we requested a g-tube be placed after she had recovered from her first round of chemotherapy. Not only did this take a significant amount of stress off us around medication administration, it was crucial during her stem-cell transplant, where she would have likely lost an NG daily from throwing up.
Unanticipated Benefits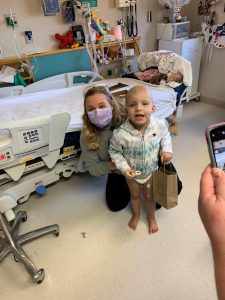 Over the past year the palliative care team has continued to be an invaluable member of Molly's very large care team, for the reasons discussed above, but also for reasons that I did not initially consider. During the 220 days that my daughter spent in the hospital, the palliative care nurse practitioner, Missy, was her most consistent provider. While the attendings, residents, and my husband and I switched in and out of the hospital Missy was able to reflect back over the past days or weeks or months in a way that no one else could, providing a longitudinal perspective that felt critical. During our 70+ day hospitalization for transplant, as the days and weeks blended together, I remember struggling to answer a simple question about if she looked better or worse than she had the week before, because I just had no idea. Missy recognized my distress and jumped in, providing with some basic scaffolding and with her help I was able to articulate that she was actually looking much worse, and immediate changes were initiated.
Missy's consistency helped our family in many other ways. The relationship she developed with Molly was one based on trust and play. When Molly was not feeling well and refusing to participate in an exam by any of the doctors or nurses, she would open her mouth for Missy. And despite developing significant separation anxiety during her prolonged hospitalization, Molly would often agree to having a playdate with Missy, allowing her very tired mom to not only go to the cafeteria to buy a cup of coffee, but also to drink it while it was hot.
Reflection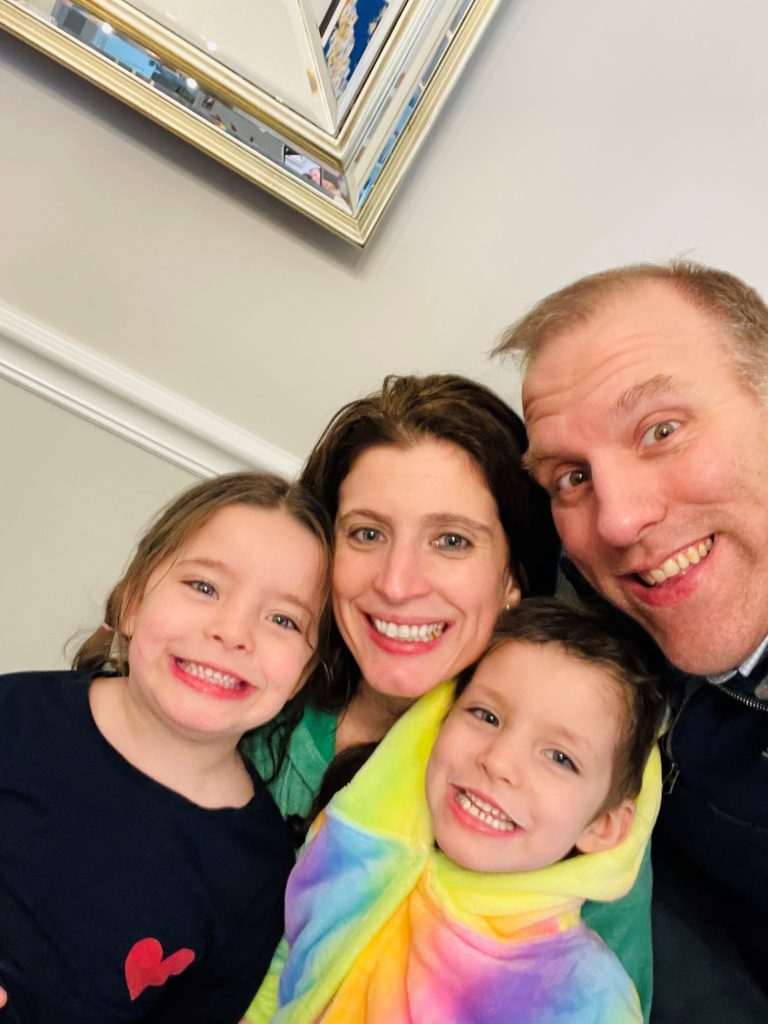 In my clinical work prior to Molly's diagnosis, I cannot count how often I have heard providers make statements along the lines of  "This family isn't ready for a palliative care consult" or "We don't want this family to think their child is dying" when talking about why a palliative care referral has not been placed. While I found these statements annoying before Molly's diagnosis, thinking about them now – from the vantage point of a parent — makes me irate, because I know how much my child and our family benefited from early palliative care involvement.  These types of statements perpetuate the myth that palliative care is for dying patients. And while this may be true in adult medicine, it is certainly not the case in pediatrics. Early palliative care allowed for Molly's treatment to have a dual focus – on cure AND on quality of life. Never once did Molly's oncology question my wish for palliative care involvement. In fact, they welcomed it. While this could have been because of my role on the palliative care team, I think it was because they too recognized the high degree of uncertainty inherent in the dual diagnoses. Over the past 15 months the two teams have done an incredible job of working together to provide the best possible treatment for my daughter.  Molly still had many side-effects from her extremely intensive therapy. But she also had a plan in place to address these side effects, in a way that would allow her to have the best possible quality of life. And for this, I will always be incredibly grateful.