As many Courageous Parents know, it is not my style to be at the center of CPN's mission to support and connect families. On the other hand, when my story can help others, I do not hesitate to step forward to tell it. That's why I agreed to be interviewed by "Yankee Magazine" for their November 2017 feature on New Englanders trying to do good in the world.
I share this article with the loud caveat that: 1) I do not think everyone must having a calling to start an organization; and 2)  I do not think that when you live through an experience like parenting a seriously ill child (who dies) it should lead to a calling. We all serve our families, friends and community in our own ways. And the last thing any of us need is pressure to "DO" something with what we have lived and learned. We have already done enough. Full stop. If something else comes — a fundraiser, a meal for another family, a playground, a poem, a book, a garden, a foundation, a non-profit — then that's extra.
Rather, I share this article with the hope that it will prompt you to share your story too so that other families can benefit. Our recent survey of CPN families found that connecting to others who know what they're going through is one of the most important and profound needs parents have. And when you share your story, you are connecting with others and you are helping them connect with you.
If you are interested, please contact us via connect@courageousparentsnetwork.org. We will support you in blogging, being interviewed, or whatever works—every step of the way.
Now, the story.
***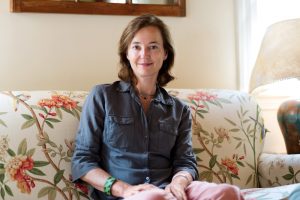 Angels Among Us/First Light/A Mother's Calling  by Ian Aldrich, Yankee Magazine, November 2017
(photo by Heather Marcus)
In late 2012, Blyth Lord was flying back from Orlando trying to figure out the rest of her life. For the previous decade, the 45-year-old television producer and Newton, Massachusetts, resident had volunteered her time as an educator on issues surrounding the care of a child with a life-threatening illness. She had produced videos on the topic, given parent group talks, and delivered high-profile presentations at physicians' conferences up and down the East Coast. It was important work, necessary work—but it wasn't enough, she felt.
"The sense of urgency was profound," she says. "I was starting to have this calling, and I was horribly afraid that I was not going to heed it. That I would die with regret that I missed something that I was supposed to do."
Lord's passion was born out of loss. In 2001, her 2-year-old daughter, Cameron, died of Tay-Sachs disease, a rare and incurable genetic illness that results in early childhood death. But the overwhelming grief she and her husband, Charlie, shared was softened by the medical care they had given to their daughter. "What resonated was that for something that was incredibly sad, it was as good as it could possibly be," says Lord. "We made the best decisions we could, and we had no regrets."
Lord, the mother of two other young daughters, says this peace of mind stemmed from the high-level palliative care that accompanied Cameron's illness. Through it, they navigated thorny issues of pain management and whether a feeding tube should be used to extend their daughter's life (they decided it shouldn't). But the Lords' experience was the exception, not the rule. At the time, palliative care in children's medicine was still in its infancy, leaving parents with little guidance when it came to making gut-wrenching decisions. Lord wanted to change that.
Working closely with Cameron's pediatrician, she brought her message of the benefits of creating more complete end-of-life care to groups and medical schools throughout New England. But its reach felt limited, and on that plane ride back from Orlando, Lord began to sketch out on a legal pad the beginnings of a new project: a Web-based multimedia platform to connect the parents of seriously ill children with information, expertise, and, most important, other people who wrestled with the same issues.
"I wanted families to see they're not alone," says Lord. "Parents trust [other parents] and learn from them. But parents like this, in this situation, are very hard to find."
In spring 2013, Lord left her job at WGBH in Boston. Less than a year later, she launched the Courageous Parents Network (CPN). The website offers original videos, blog posts, and podcasts that cover the scope of issues that come with caring for a seriously ill child, from bereavement to marriage health. New content goes up every month, much of it featuring families who've used the site's resources. CPN is free to use and totally anonymous.
Many of CPN's referrals come from the medical community. Sarah and Steve Shaw, for instance, were pointed to it by a palliative care social worker at Boston Children's Hospital. Residents of Burlington, Vermont, the Shaws learned in late 2015 that their 7-month-old daughter, Emerson, had Gaucher disease type 2, a fatal neurological illness. Over the next several months, the family's life became a stream of doctor's visits and grieving. The couple felt as if they were on an island, and a virtual community hardly seemed a way to alleviate that. But late one night, Sarah went on CPN—and what she discovered surprised her.
"It was really helpful to hear other parents articulate things we didn't have the words for yet," Sarah recalls. "'Anticipatory grief'—I'd never heard of it. But that's what I was feeling. You're looking at your happy baby, but you're grieving her death. It gave me context for those feelings."
Connections like that are the very building blocks of CPN. The network can't save a child's life, but it can honor it by helping parents feel more empowered in the decisions they make and more comfortable with the emotions they must navigate.
"This is something that started out very personal for me," says Lord, who uses a mix of donations and grants to fund the site's services. "But now it's about all the other families we're talking with and inviting to tell their story. These people I have met and heard from are dealing with sacred, beautiful, and profound issues that are really grounding. It's life and death, and finding meaning in the face of it."