8/3/2022
·
Enable high contrast reading
The Falmouth Road Race, Team CPN, and The Stories that Carry Us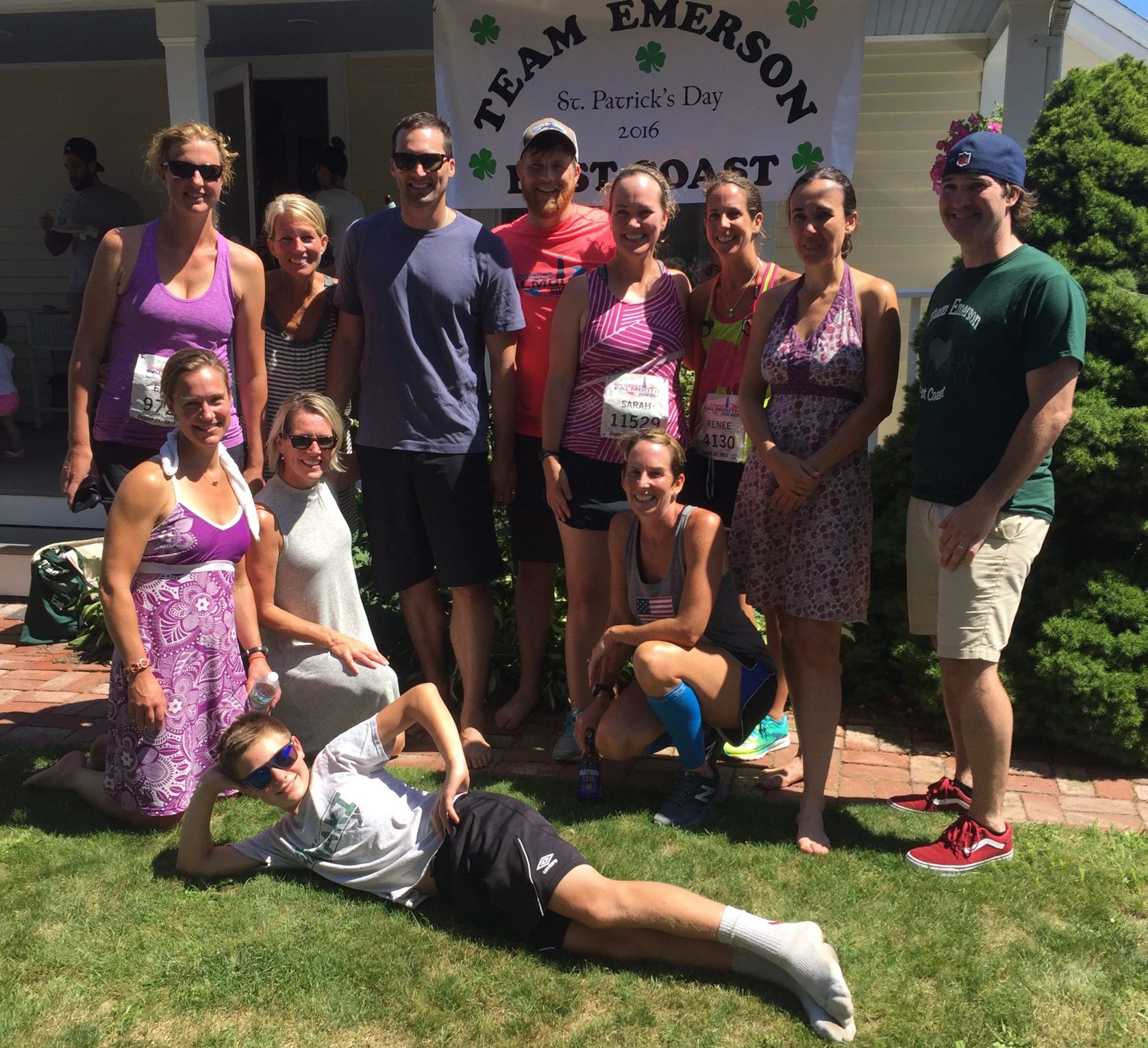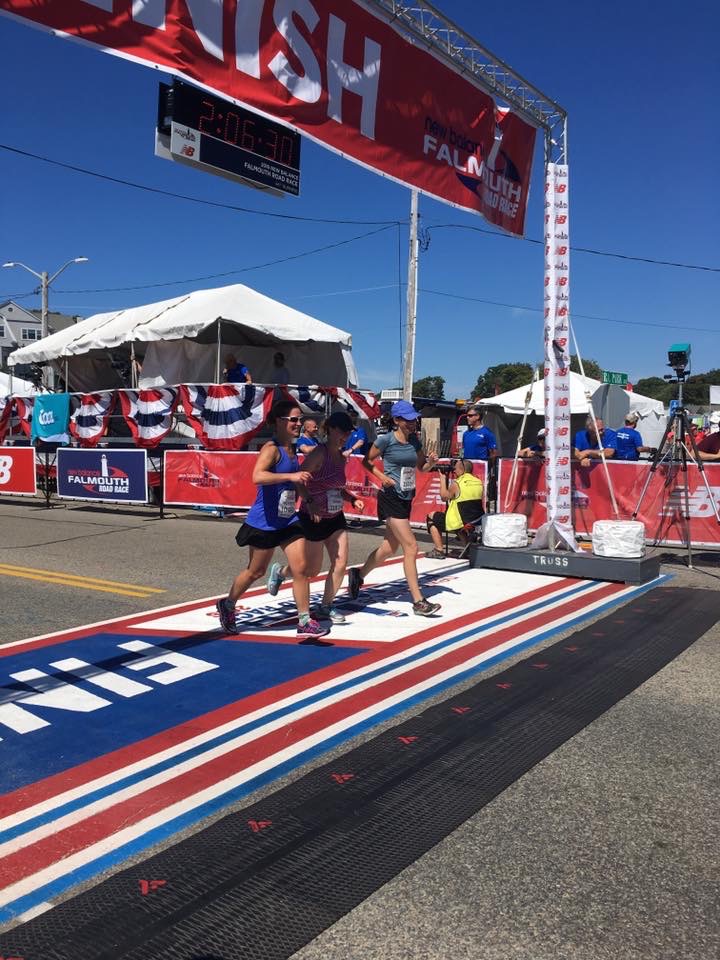 The Falmouth Road Race has always held a special place in my heart. With the finish line a few blocks from my childhood home, the race was always a highlight of my summers. My mother, a nurse, volunteered each year at one of the medical tents along the course, family and friends would run, and we would all gather post-race to celebrate. Though I've never been a natural distance runner, something about the Falmouth Road Race drew me in. I think partly it was the festiveness of it all and seeing world class runners up close as they sprinted by, almost silently as if their feet didn't even touch the ground. Mostly, though, I think it was the regular people and the stories that their runs told that made it feel so special.
I can remember vividly all the years that I would stand at the corner, just past mile 6, waiting for Dick and Rick Hoyt to pass by. They would run together, Dick pushing his son Rick in his wheelchair. If you haven't read their story, you should. It is incredibly inspirational in many ways. At its core is the story of a regular dad who went out of his comfort zone to do whatever it took to give his son the best quality of life possible. In doing so he changed not only their own lives for the better, but those of countless others. There were other stories of courage and selflessness, too. I would watch the runners running for various causes, names printed on shirts and bibs, and I would feel a sense of gratitude that there were so many good people, though I still saw them as other people's stories, not mine.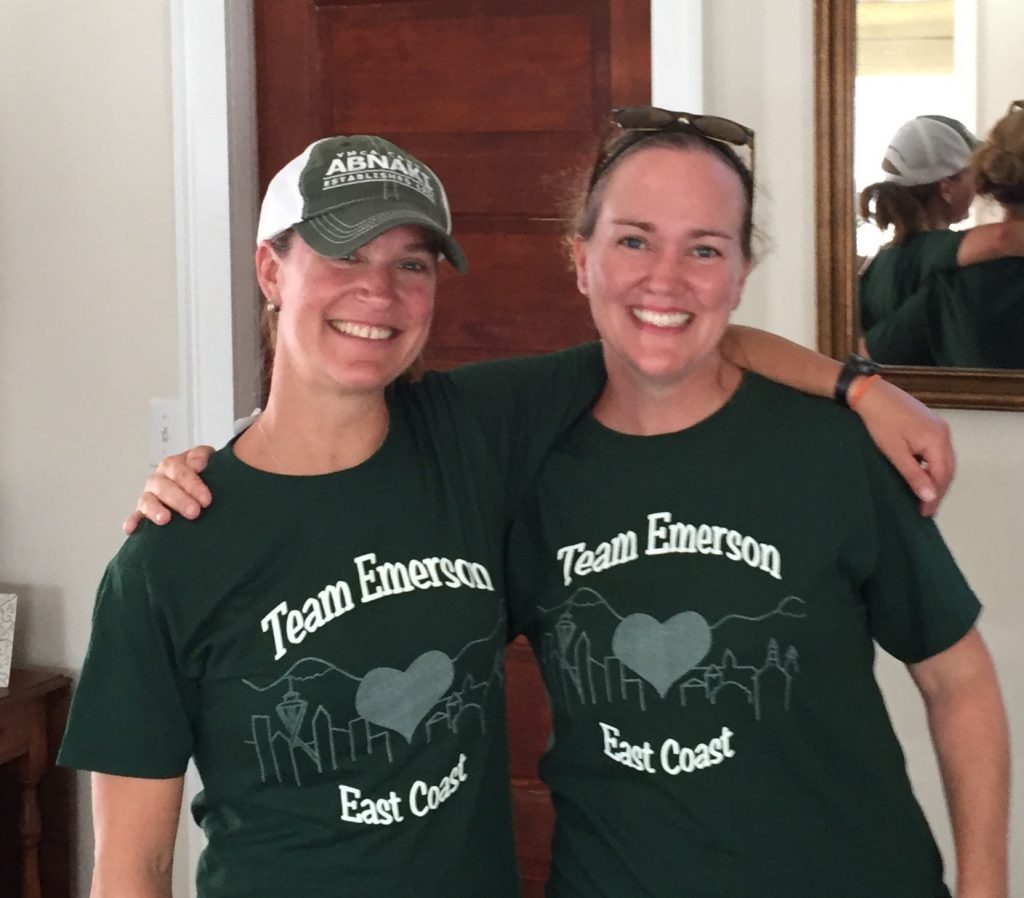 This changed in late 2015, when my daughter Emerson was diagnosed at 8 months old with Type 2 Gaucher's, an extremely rare and fatal disease. My husband Steve and I went from being new parents with hopes and dreams for our daughter's future, to being new parents anticipating our daughter's decline and death. We were shattered. We were fortunate to have a wide circle of incredibly supportive family and friends, but there was a shared sense of helplessness. So, when my brother suggested that we gather to run the Falmouth Road Race as "Team Emerson", it felt like something that we could all "do". It was an opportunity for our friends and family to show their love and support, and for us to express our gratitude for that love and support. And it would be a time for us all to be together with Emerson, collectively soaking up all of her goodness that we could in the time that we had.
Unfortunately, Emerson didn't make it to the race in August. She died in early June at 16 months old, just as we were ramping up our training. I stumbled blindly through the fog of those earliest days of grief. Where I had been efficient and focused and strong in my caring for Emerson, I now felt heavy and adrift. Standing felt difficult, self-motivation to run, impossible.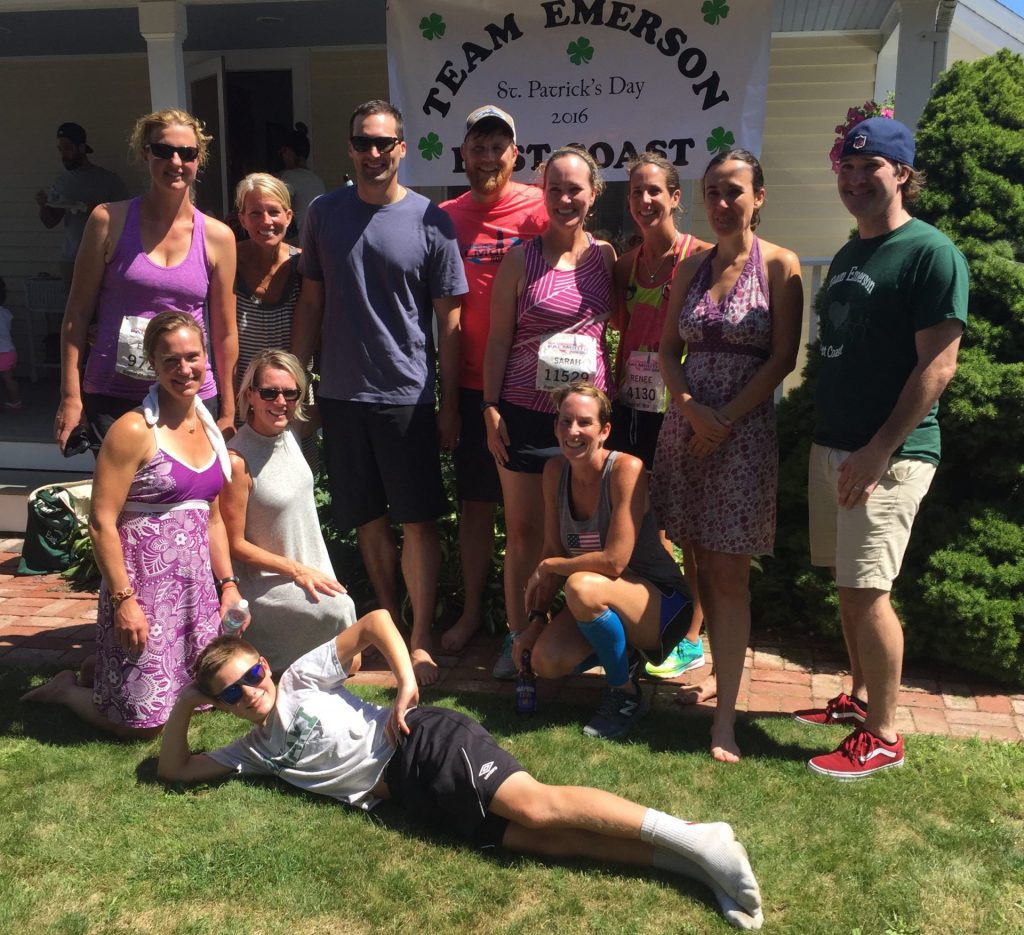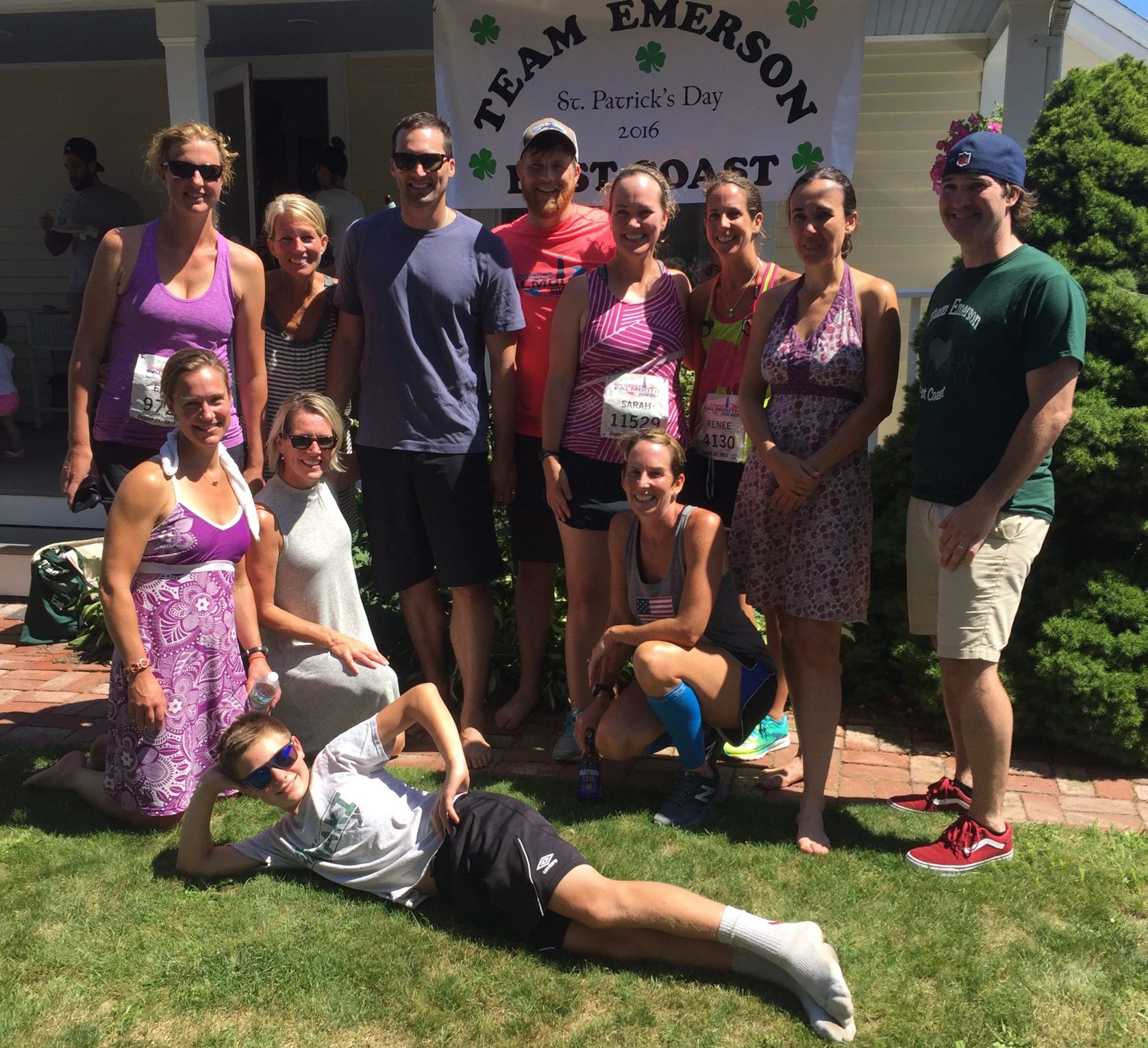 I don't remember communicating to our team that we still wanted to run the race, but we must have. The support and momentum for "Team Emerson" grew. Our pediatrician, who had signed up to run with us, began stopping by after work to run with me. I suspect that she was mostly checking on my well-being, but training for the race gave us a reason to get together and gave me a purpose for moving my body, which I desperately needed. I know that there were days that she ran before or after meeting me to run (sometimes probably both) and that our runs were short, often including walking. But she kept showing up and so, so did I. Crossing the finish line of the race, I felt surrounded by love. I didn't have the capacity at the time to express it, but I always wish that everyone who sent even the smallest good thought during that time could know how much it meant.
Not long after we ran the road race, my husband and I were interviewed by CPN. It felt like an honor to give back. We had been referred to CPN by the Pediatric Advanced Care Team (PACT) team at Boston Children's Hospital soon after Emerson's diagnosis, and will be forever grateful, both for the referral and for the families whose stories helped keep us afloat in the middle of so many nights. Connecting with CPN made us feel like we weren't alone, gave us language for what we were experiencing, helped guide us as we made decisions, and most importantly, helped us to reframe what it means to have hope.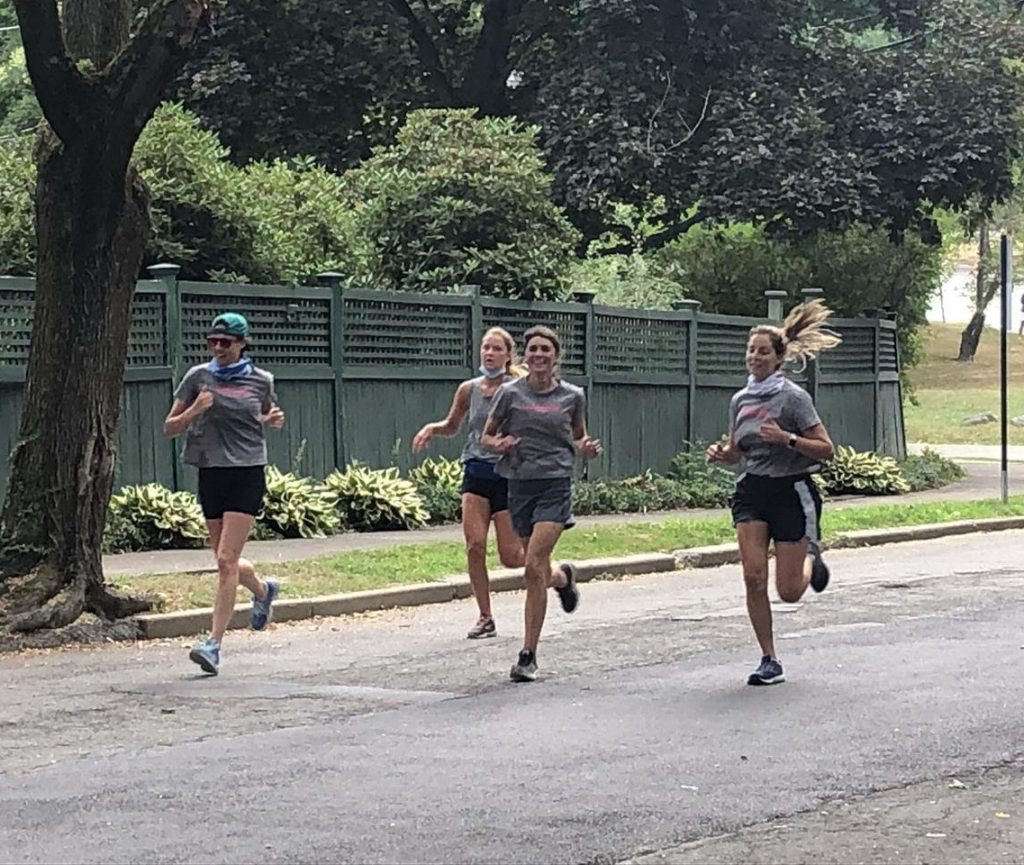 Over the years I've stayed connected with CPN in a variety of ways and have also continued to run. A few years ago, many of the original "Team Emerson" members ran a 5k on what would have been Emerson's 3rd birthday, raising money for CPN in her memory. This planted a seed in my mind that would grow into CPN participating in the Falmouth Road Race's Numbers for Nonprofits program. This program grants Massachusetts-based nonprofits a preset number of race entries for runners to raise money and awareness for their organization. Each year, over 3,500 runners represent over 300 nonprofit teams. Incredibly, since the year 2000, these teams have raised over 50 million dollars for their causes. Soon after Team CPN was accepted into the program for 2020, however, COVID hit, and the race was switched to a virtual format. While disappointing, if there is anyone who can deal with the "unplanned," it is the CPN community. Our runners exceeded fundraising expectations and came together for a socially distanced run that felt every bit as special as we had originally hoped. In 2021, the race was back to the in-person format (with a virtual option). It was wonderful to have many of our runners and their loved ones join together post-race at my family's house, just as I remember my family doing when I was younger.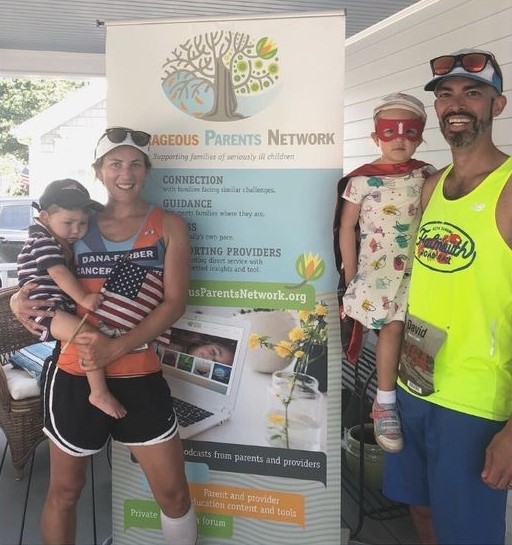 I am so thrilled to be coordinating CPN's Falmouth Road Race team again this year. Our runners include CPN families, medical providers, staff, donors, and friends. Collectively, they represent the community that is CPN. Individually, they carry personal stories of courage and love and wisdom, earned through, among other things, continuing to show up. This is beautifully illustrated by CPN sibling Johnny in this video he made for his brother Mateo. Their mother Michele, also a chaplain at Boston Children's Hospital, will be taking to the starting line with Team CPN this August 21st. I can't wait to cheer her and the rest of our runners on. Watching the race, I'm sure I'll feel a familiar sense of excitement and gratitude, only deeper now. These aren't just other people's stories anymore, they're also mine.
To learn more about each of our runners and to support their fundraising efforts, visit our team site here.