2/3/2020
·
Enable high contrast reading
"Our Parents Kept Asking Us to Come Back" Ilene Beal Courageous Provider Award Recipient on Becoming a Palliative Care Nurse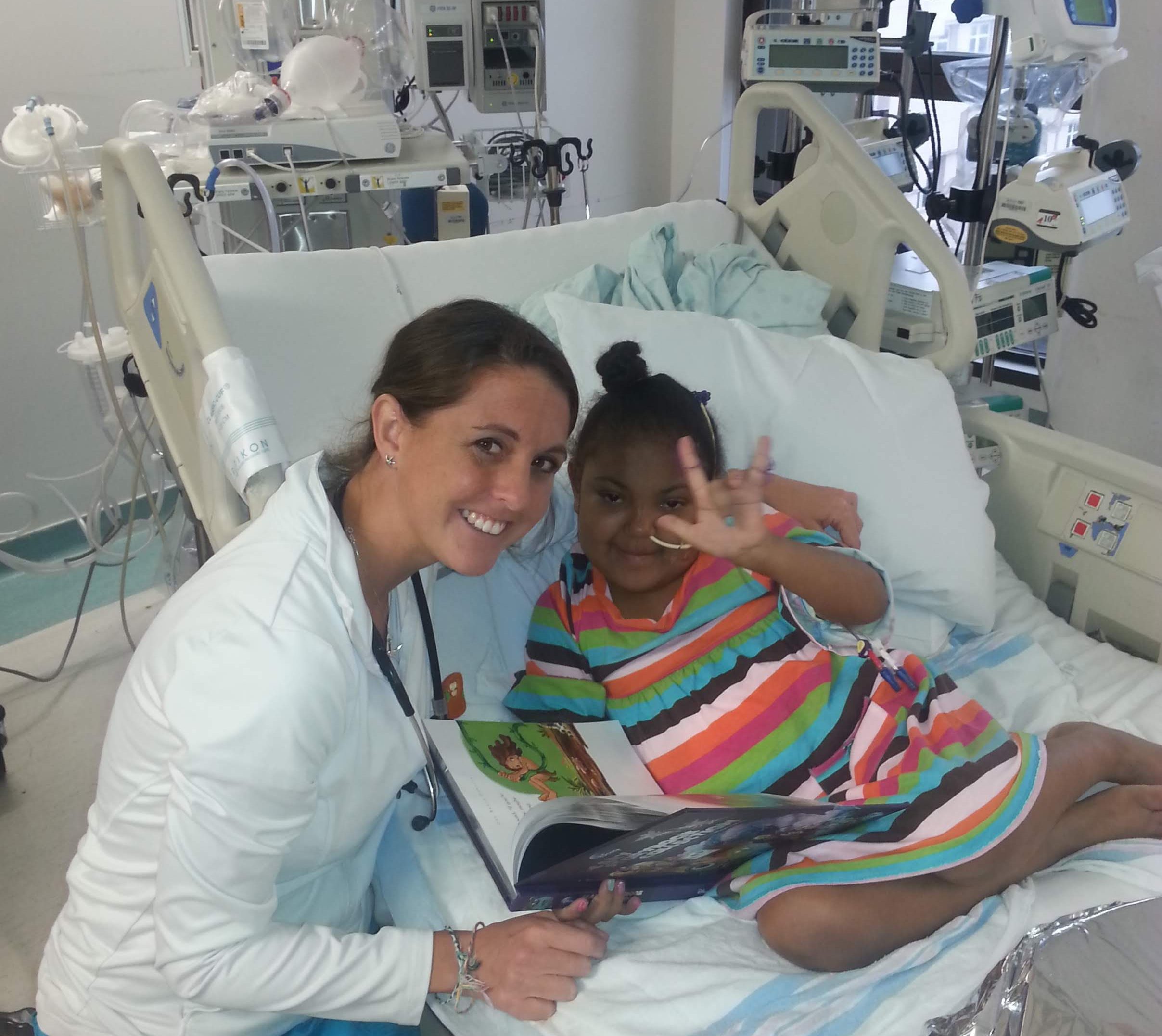 I was introduced to the medical world at an early age. My dad was diagnosed with a complex condition when I was 6 years old. I was too young to understand the meaning of complexities that this label would bring, but old enough to realize our family's life would be forever changed. Weekends were spent sitting vigil next to his hospital bed with my brothers, who were just toddlers at the time. Weekdays were spent watching my mom juggle work, the needs of 3 young kids, and the needs of my dad. We were blessed to have grandparents ready and willing to step in to help.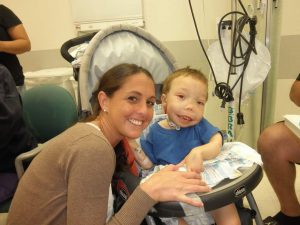 I became fascinated with the hustle and bustle of "hospital life"; watching the medical team round with herds of people participating and speaking a language of medical jargon that overwhelmed my parents. I found myself spying as nurses administered meds and IV fluids, taught students, and answered my parents questions, in words they could understand. These same nurses would run to grab tissue for Mom and Dade to wipe their tears or they would just sit with us in silence as my parents and we three kids tried to absorb the news of the day. Support staff helped us navigate through the endless paperwork or distracted us for a bit.
As more and more medical specialists were added to the mix, we began traveling for treatment. We were confused with information and various opinions and time frames. Life in general became a daily test of willpower. As I grew up I became part of the medical team. I started my career as a high school volunteer in Jackson's NICU and then as a premed and nursing student at the University of Miami. Upon graduation I was hired as a Nurse in the PICU at Holtz Children's Hospital. My dad continued to be in and out of the hospital, and my experience resulted in a better understanding of his condition. I became the spokesperson for my Dad and spoke directly with Doctors and specialists in hopes to connect the dots and find some resolution. I took turns with my mom to spend sleepless nights bedside.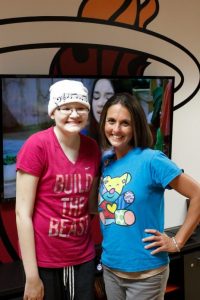 The medical ordeal of my dad strained relationships, jobs were lost, and bills added up. But through this we are blessed to have learned to live each day to its fullest and to have patience with others, knowing we do not know what they are going through themselves. This journey has shaped my career and has taught me how patients and families need to be treated, how to navigate through conflicting medical opinions, and how to determine what person, medical professional, family member, or clergy is best to pass on information. Sometimes sharing my personal experience with those who may not understand what it's like to be on the receiving end of medical care or even to a family suffering severe medical illness, renders empathy and calming understanding that they are not alone in the process or the painful suffering.
Never in my wildest dreams did I imagine myself in palliative care; I honestly didn't even know what it meant the first time I heard that term. I was afraid of death, the death of my grandma nearly destroyed me emotionally. As a PICU nurse I joined my mentor Dr. Cantwell on a trip to the Miami Seaquarium with one of our sickest patients. The trip was exhausting. We carried a wagon, equipment, and an IV pole up and down the steps, but that face of that patient is one I will never forget. The face was one of pure joy and excitement; seeing the marine animals was an adventure, but the pure joy was being outside in the fresh air, with kids his own age. His Grandpa's eyes were bright with love as he watched his grandson experience every moment of that day. The patient died a few days later. The family expressed their gratitude for that day, along with their tears of sadness. There were smiles behind the salty streams of tears and even laughter at some of the ventures of those few hours at the Seaquarium. Grandpa's parting words were, "Thank you for giving me that day with my grandson; that is how I'll remember him." I was immediately absorbed into the life of a Palliative Care Nurse and advocate for this very important program. From that moment, my goal was to foster, support, and work for any programs here at Holtz that suggested a future in Palliative Care.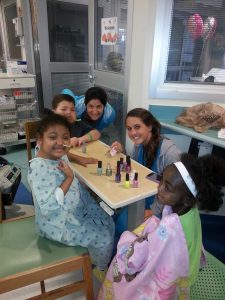 For years I worked as a PICU nurse, volunteering myself for the complex cases, using my past experience with my dad as my guide to navigate the needs of a challenging patient, family, medical team, or scenario. I put supplemental energy into the "not for profit organization" I started with staff members to provide patient experiences and assistance to families. The program sponsors events like family dinners to bring patients and families together to realize they are not on this journey alone. I furthered my education and became certified in Palliative Care.
I was offered and accepted the honor of becoming the Palliative Care Nurse Coordinator for Holtz Children's Hospital. Our palliative care team has been in existence since 2008, led by Dr. Cantwell and our child life team. My job has been to expand the program, educate our staff, and make Palliative Care a less scary and misunderstood term, but one that every patient, family member, and staff member can benefit from. Palliative Care exists not just for the sickest of patients, but for all patients. Establishing the program as an integral part of hospital medical care was no easy task. For months staff members would run in the opposite direction when we were in the unit. "It's too soon" was a common response when we inquired about a patient, but we kept moving forward. We continued to have those difficult conversations with our patients and families, we continued to help meet goals patients had set for themselves, we continued to wheel ICU beds, ventilators, and poles outside for a breath of fresh air and quick escape into a more "normal" world.
Our parents kept asking us to come back; parents began asking their medical teams to get us involved. It is because of our parents and the dedication of our fantastic staff that those walls of fear began to crumble. Staff comments that were once "How do you do this job?" turned into "How can I have your job?"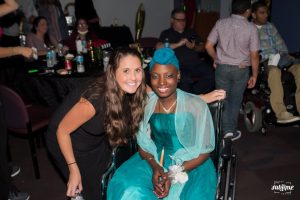 We christened our Palliative Care Team with the name, PediPals in 2015.   We are now consulted early in diagnosis. This gives us the opportunity to build a rapport with our patients and families from early on. We often are that constant in a world of ever changing medical teams for them. Goals of care and life in general are discussed and achieved when possible. In a world that is far from normal our goal is to make the lives of patients and their families as normal as possible. We help our children continue with school and social interactions as much as possible. We strive to create an environment for family members that is caring and comforting, so they can maintain jobs, attend family vacations, and engage in their lives and tend to needs of healthy family members, knowing their sick children are in good hands. When we hit a fork in the road we have already built that trust to stand by our patient and families side when decisions are to be made. In situations where life nears the end we work together to provide comfort, dignity, religious support and peace.
As I walk the halls of Holtz Children's Hospital I smile at seeing our staff provide the palliative approach we have been working so hard to spread. Although our team is only made up of one dedicated position, myself, we have an entire army who believe in our mission and our dream and for that we are so grateful. In 2019, we added our NeoPals team, the neonatal and Antenatal initiatives. In my eyes, when those two teams asked us to come aboard a huge hurdle was overcome. I have 3 physician champions who volunteer their time, resources, medical wisdom and physical presence for this mission. We are surrounded by a community that believes in what we do; a committed staff from every sector of the hospital who drop everything to help us make dreams come true. Our patients and families have become a part of our forever PediPals families. They are the reason we continue to work so hard to grow this program.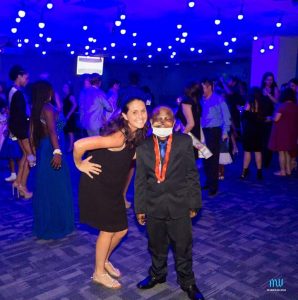 You have named me the recipient of this recognition. I am not the face of Palliative Care at Holtz. I may carry a title with my name, but there are many faces that represent Palliative Care. From the administration to the housekeeping staff, and the food service personnel, from Doctors and Nurses, to Secretaries, essentially all staff here at Holtz Children's Hospital are the recipients of this deeply honorable award. By now, you must know, that, for me, there is no other place I could conceive of, to spend my days, and sometimes nights, weekends and holidays, then here, at Holtz, doing what it seems fate has prepared me to do since I was 6 years old.
Thank you for this gift; thank you Holtz for believing in our mission; thank you staff for your forever strength and dedication to our children and their families. I am humbled to receive this honor on your behalf.