I sat in a sea of clinical paperwork last Sunday and felt like myself for the first time in weeks. I was searching for the order form for Colson's adaptive stroller, which listed all of its component parts and sizes. Colson's amazing occupational therapist from his baby days in early intervention was coming to our house the next morning to pick up his big-boy blue adaptive stroller and his awesome green stander with the spaceship motif, and I wanted her to know what she was getting. After researching options to donate this precious, life-giving equipment for over a year, I realized the only place I wanted it was a) where I knew it would get used and b) with an organization that had served us and Colson well. The only way to mitigate the heartbreak of parting from things that belonged to him is to make sure they go to families that will benefit from them. In this way, his generous spirit lives on.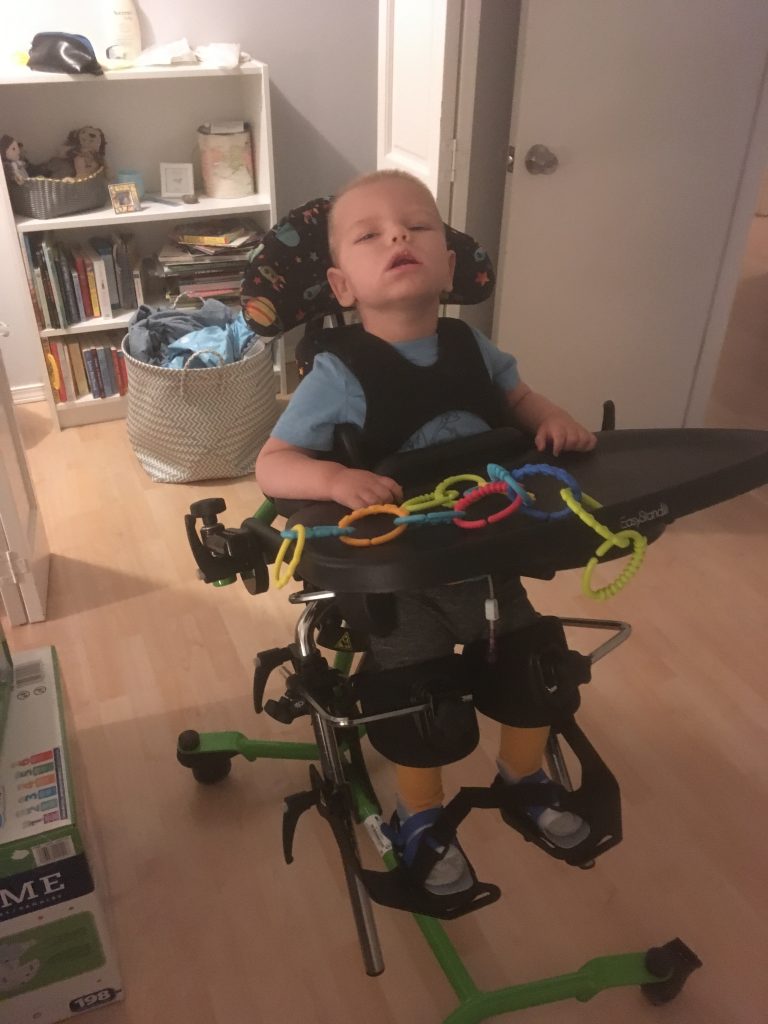 Colson's early intervention provider was the absolute best fit. His equipment is small because he was always small. Parents must manage a difficult calculus when their little kids need adaptive equipment, given its astronomical cost; the tendency of insurance to drag its feet on coverage; and the changing nature of the needs of complex kids as they grow. Colson's equipment will now be free "loaner" equipment for other very young kids, while their families figure out what equipment will best serve their needs long term. 
As I waded through the clinical documentation looking for the stroller details, I felt a familiar mix of pride and sadness. Pride that Jacob and I had managed so much complexity for as long as we did, with as much love as we did, and sadness that we had to. I didn't keep every document from Colson's care. Between early intervention, his pediatrician, several inpatient stays, 12 outpatient clinics, the school district, and our state's Division of Developmental Disabilities and Long-Term Care programs, the amount of paperwork would have reached the ceiling. But I did keep three boxes of things that felt important: clinic reports from his neurology and biochemical genetics teams; progress notes from occupational and physical therapy; medication manuals and hastily scribbled notes from my conversations with various team members, with my questions and their answers tracked in a cryptic shorthand that only I can decipher. 
As I looked through it all, I felt my medical mama gears clicking into place again. The almost trance-like linking of my brain, my body, and my spirit working to form a coherent perspective of what is it I'm looking at? What is it we're dealing with? How am I supposed to manage the unmanageable?  
I thought, in particular, of the difficult dance my husband and I did with a seizure medication during Colson's life. One of the potential side effects of this medication was peripheral vision loss. When we started giving Colson this medication, we were already concerned that he was having difficulty with his vision, and agonized about making it worse. Do we try to spare the eyes, or save the brain? We were constantly trying to solve these ridiculous riddles. There was never a clear answer.
Looking at Colson's life with a bit of distance now, I wish we had done one thing differently. I wish we had treated our relationship with his palliative care team with the same level of urgency we treated our relationship with his medical home team. Specifically – we had a 6 month follow-up with his medical home team without fail. I knew which clinics I could push out by a few months or more – but felt a sense of duty to check in with his medical home at the cadence they recommended, because they were looking at him so comprehensively. I wish we had done that with palliative care, which we engaged frequently, but on a more ad hoc basis.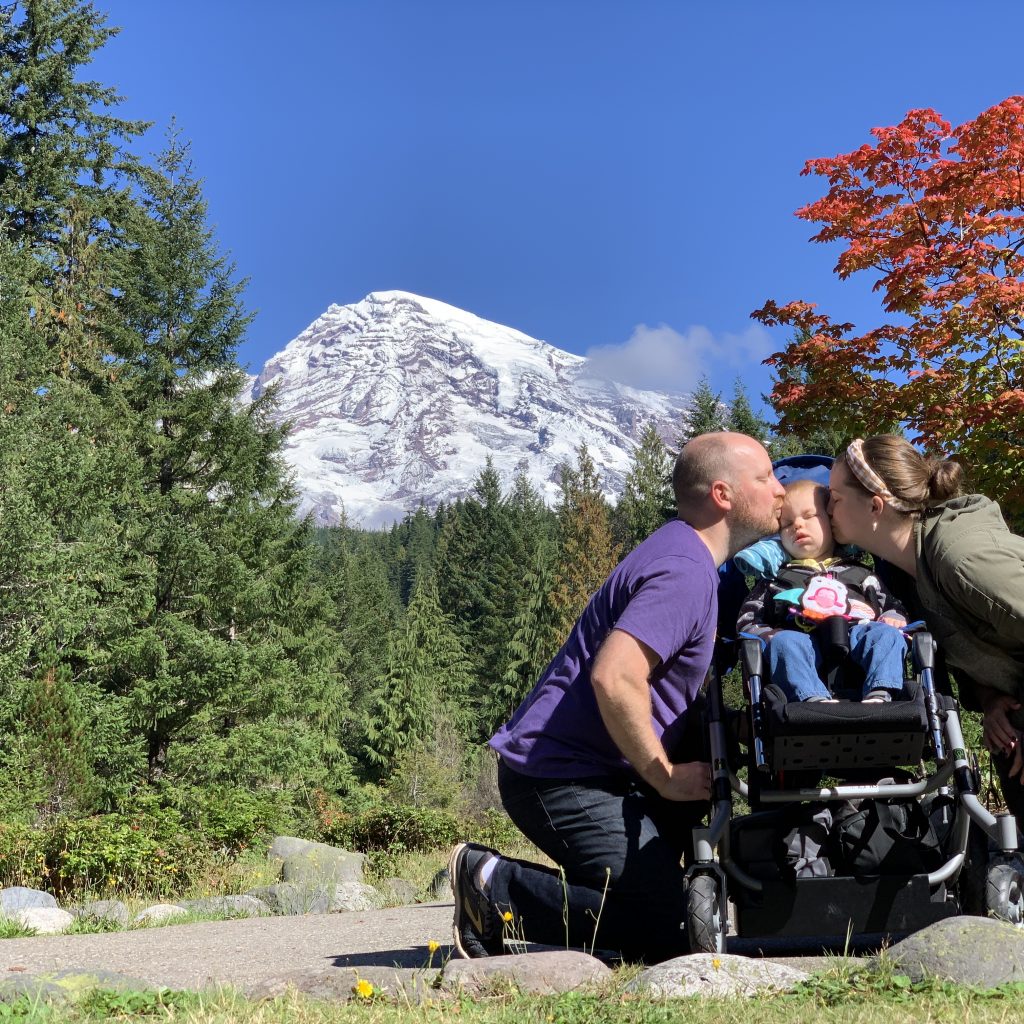 I wish we had done this so that someone could have looked at our caregiving duties more comprehensively, and guided us through some of the constant sense-making that we got used to doing instinctively, but not necessarily strategically. I don't know that it would have changed any of our decisions, but it might have made us re-evaluate them more frequently and find areas where we could adapt our approach and ease the burden on ourselves and Colson. Our competence, at times, felt like a curse. We were almost too good at dealing with the onslaught of information we were constantly absorbing. My boxes of records bear that out. 
I know that palliative care providers truly mean it when they tell families to connect with them at any time. But it's an oversimplification to recommend that palliative care providers and caregivers simply make those connection points more consistently and intentionally. I don't know what the solution is. I do know it's almost impossible to ask for help, call a care conference, or even think about making changes to a semi-functional care plan when you're just trying to get your kid through each day safely. So I end this post with a question, and an invitation for your input: what would be most helpful for you, either as a parent or a provider, to ensure palliative care conversations occur consistently during a child's life, and not just near times of intervention or crisis?
If you have thoughts, please email them to connect@courageousparentsnetwork.org and I will follow-up on this topic in next month's post. Until then – I wish you peace and strength in your journey.
Liz Morris loves exploring complex questions. Her professional experiences in project management, librarianship, and community development prepared her well for her favorite role as mom to Colson. Colson, impacted by mitochondrial disease since birth, inspired Liz to face the complicated aspects of his life through writing and advocacy. Liz serves as a family advisor at Seattle Children's Hospital, and is a volunteer ambassador for the United Mitochondrial Disease Foundation. She is committed to helping families find the information they need to help them live well in the face of life-limiting illness. You can find Liz on Instagram @mrsliz.morris