Register for Event:
Does spirituality and/or religion help?
November 7, 2022, 8 PM EST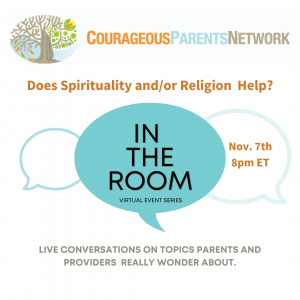 Having a child diagnosed with a serious illness immediately stirs up all kinds of questions and feelings – often related to a parent's sense of meaning and purpose in life. A parent may ask,Why did God do this to me/my child?  Is it because I did something wrong in the past?   Parents often find themselves in a crisis of faith and spirit. Some may feel that they need to pray more, do better, be more faithful, while others feel totally abandoned by God and question their previous beliefs. Some may feel that while facing this adversity, they trust more in the Divine, gain strength from their faith, and ultimately say "It's in God's hands." Still others may turn to their families, support communities, nature, poetry, music or spiritual connections for guidance and strength.
Please join two spiritual care professionals and a parent panel to delve into how spiritual and/or religious practices inform parental advocacy, decision-making and coping.